WATCH | ANGRY BULL CRUSHES MAN; TWITTER REACTS IN THE MOST UNUSUAL WAY
Home >
News Shots >
World
By

Behindwoods News Bureau

|

Nov 15, 2018 08:00 PM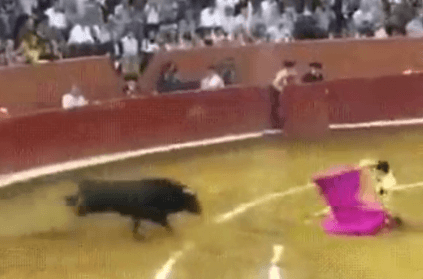 Have you ever wondered what it feels to be struck by something unexpected. A ball, train, or maybe even a bull.

In a video that has now gone viral, a man can be seen getting ready for a bull fight. Little did he expect what was about to happen next. As the man was getting ready in the arena, he was literally wiped off by the raging bull that charged at him in full speed.
FINISH HIM! pic.twitter.com/FVdSNfBMq9

— Persian Rose (@PersianRose1) November 14, 2018
Given the force of the impact, it would not be surprising if the man suffered fatal injuries. However, people on Twitter had the most unusual reaction to the shocking accident.
I hate this so called "sport". It is pure animal cruelty.

— Cissi Fenech Pedersen (@FenechCissi) November 14, 2018
In this case the animal was human

— Mikko Tanskanen (@TKirahvi) November 15, 2018
Great performance. I love this bull👏🏻👏🏻👏🏻

— Enric Grau Chàfer (@EnricGrauChafer) November 14, 2018
so satisfying that.....😁

— 🍁jay the gardener🍁 (@Jamie02081) November 15, 2018
I will never get bored of watching this video #banbullfighting #againstanimalcruelty

— Vicki Cotterell (@shoegalvics) November 15, 2018
While the condition of the man is still unknown, what is bizarre is the way people are reacting to the incident. While we agree that any activities that cause pain to animals should be banned, we also sincerely pray for the man at the receiving end.
next