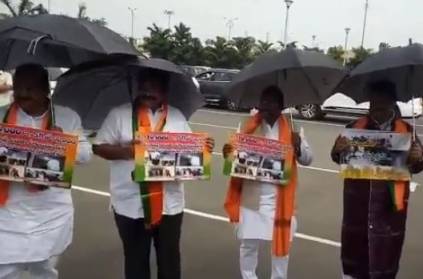 In a bizarre incident, BJP MLAs from Andhra Pradesh were seen wearing raincoats and carrying umbrellas to the interim Assembly. Reportedly, it was a form of protest to attend the monsoon session.
The MLAs entered the Assembly fully-clad in rainwear. Due to the continuous rains in Amaravati, heavy leakage had resulted in the Secretariat. Water had also entered the temporary Assembly building. Visuals of water dripping from the ceiling of the Secretariat has been widely circulated on social media.
Opposition parties, including BJP and YSRCP, used this to blame the Telugu Desam Party (TDP) for not following proper procedures in constructing buildings.
Tags :
#BJP #ANDHRAPRADESH
next