PHOTOS OF LORD GANESHA, SARASWATI, SHIVA & OTHER GODS PUT UP INSIDE PUB'S BATHROOM
Home >
News Shots >
World
By

Behindwoods News Bureau

|

Nov 21, 2018 09:52 AM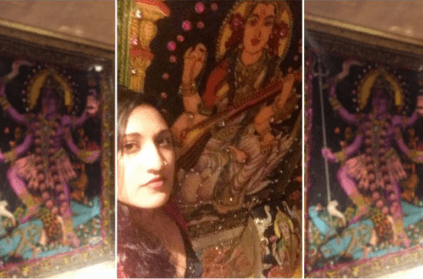 Hindu gods have been portrayed in an extremely inappropriate way time and again. There have been instances of Lord Ganesha appearing on toilet seats and Lord Ram's face on shoes. But an Indian-American woman saw something at a pub that was horrifying.

Ankita Mishra walked in to a pub, House of Yes, in Bushwick, New York. She was in for a shock when she went inside their VIP bathroom.

In a blog post, Ankita wrote, "...last month, during a night out with friends, I could not stay quiet when I suddenly found myself in a curiously-decorated VIP bathroom inside House of Yes in Bushwick, NY. The walls were papered with bejeweled images of Hindu gods like Ganesha, Saraswati, Kali and Shiva."

Shocked at the brazenness, Ankita decided to write to the pub, explaining them how the images inside the washroom at inappropriate, insulting and disgraceful. Click here to read here blog post.

Urging the pub owners to take steps to either dismantle the bathroom walls, she wrote, "Your mission statement is one that touts inclusivity, positivity, and safety. Please don't make me lose faith in the ability we all have to right some wrongs and truly hear each other out."

Ankita heard back from the pub in an apologetic email. The co-founder of the pub replied to Mishra's mail and apologized for the tone-deaf and offensive use of images of Hindu gods in the washroom and promised to either dismantle the walls and redecorate it or to paint over the pictures. Burk said, "I am sorry for not taking the time to fully understand and research the deep history of the culture I was inspired by before using it to decorate."

Meanwhile, Mishra's tough stance over the issue was much appreciated by netizens on Twitter who lauded her for standing up for her traditions and culture.
Tags :
#TWITTER #HINDU GODS #PUB #WASHROOM #CULTURAL INSENSITIVITY #BUZZ
next