HOW MANY NUMBER 8'S CAN YOU SPOT IN THIS 'EIGHT OF DIAMONDS' PLAYING CARD?
Home >
News Shots >
Fun Facts
By

Behindwoods News Bureau

|

Nov 19, 2018 09:38 PM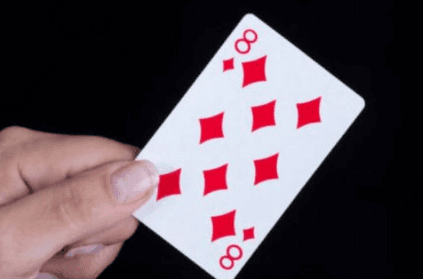 All of us enjoy a bit of trivia every now and then. Don't we?

While it is easy to get sucked into the wormhole of trivia and the quest to gather information about unusual occurrences around the world, it is the mystery in mundane, everyday stuff that is usually harder to spot.

Such a mundane little mystery, that was waiting to be discovered all these years, has caught Twitterati's attention.

A Twitter user, who goes by the handle @PlinketyPlink, pulled off a card trick that no magician must've tried before. Holding an eight of diamonds in a deck of playing cards, the user asked people to notice a tiny detail in the card - an eight of diamonds.

The user posted an image on Twitter and asked people how old they were when they saw the hidden number eight.
What age were you when you first saw the 8 in the middle of the 8 of diamonds? 😯 pic.twitter.com/GjRLkyl7Vu

— Plink (@PlinketyPlink) November 17, 2018
Were you able to spot it?

At first glance, it appears to be just another average 'eight of diamonds'. But on closer inspection, users found something more, something that they had perhaps never noticed through all those years of looking at playing cards - a numeric eight made from diamonds was hidden in the card's outlay which, as users know, includes eight diamonds.
asy hai isko dekho phr orignal pic.twitter.com/lZLxrgJhmg

— Venom (@Hassan_xDD) November 19, 2018

Crazy right! Users on Twitter were equally baffled with this observation after all these years.
Cripes! I just saw it right now. And in 3 months and 2 days I'll be 67.

— Salman Rashid (@odysseuslahori) November 19, 2018
November 18, 2018
Today...49 years old & just saw it today. Been playing cards my whole life

— Tim Klapperich (@timklapp) November 19, 2018
Tags :
#TWITTER #TRIVIA #EIGHT OF DIAMONDS #BUZZ #VIRAL #TRENDING
next