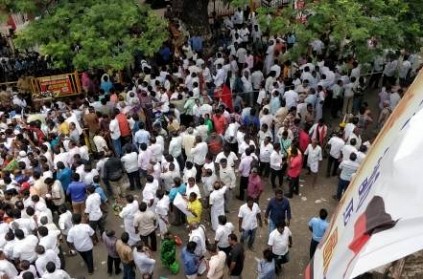 The situation at Kauvery Hospital became tense after a medical bulletin released on Monday suggested that there has been a decline in the DMK Chief Karunanidhi's health. Worried DMK cadres thronged the hospital to know about their leader's wellbeing.
The bulletin released by Kauvery stated, "Maintaining his vital organ functions continues to remain a challenge considering his age-related ailments. He is on continuous monitoring and being treated with active medical support. His response to the medical intervention over the next 24 hours will determine the prognosis."
Since today morning, family members of the DMK patriarch were seen coming and leaving the hospital. Reportedly, over 1,200 armed reserve policemen were brought in as standby. Already, 400 men have been deployed in the area.
Over the past few days, many have visited the DMK Chief including President of India Ram Nath Kovind, Vice President Venkaiah Naidu, Congress president Rahul Gandhi, Kerala Chief Minister Pinarayi Vijayan, and former Prime Minister H.D. Deve Gowda. Actor-turned politicians Rajinikanth and Kamal Haasan have also visited Kalaignar. On Monday night, Union Minister Nitin Gadkari reportedly came to visit and on Tuesday morning, Actor Arjun had come.
According to reports, another release is being expected by today evening from the hospital.
next