POOR INTERNET CONNECTIVITY FORCES TEACHERS TO CLIMB TREES IN ORDER TO MARK ATTENDANCE
Home >
News Shots >
India
By

Behindwoods News Bureau

|

Oct 05, 2018 04:39 PM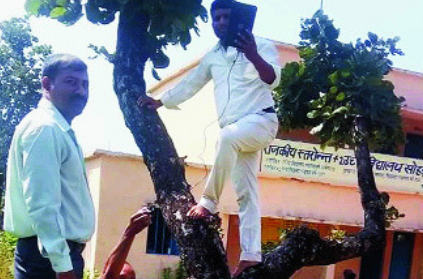 At a time when India is basking in the steady growth of its digital infrastructure, school teachers at a village in Jharkhand have a different story to tell.

Each morning, six teachers of the Upgraded Plus Two School in Sohri Khas village, gather in the school courtyard. In their hand, a tablet, which is connected to a biometric reader on which they have to record their thumbprints for attendance. But there is one problem! Lack of internet connection.

The absence of internet forces 2 or 3 teachers to climb up a tree in the school premises, while the students watch.

"There is no internet connectivity on our campus at all. We can access a very weak 2G network if we climb up the tree and wait, but even that is quite unreliable," says Arpan Kumar Gupta, a science teacher in the school.

When the tablet does not connect to the internet, the teachers mark their attendance on a register, said another teacher. All the six teachers are in their late 20s and late 40s. Not all of them can climb a tree, and that too every day.

Till the time infrastructure in these areas is made accessible, the school teachers will have to resort to climbing up trees or making do with registers.
*Report & Image Courtesy: Times of India*
next