KERALA JCB DRIVER SAVES OVER 80 PASSENGERS OF A TAMIL NADU BUS THAT FELL INTO RAVINE
Home >
News Shots >
India
By

Behindwoods News Bureau

|

Sep 25, 2018 03:19 PM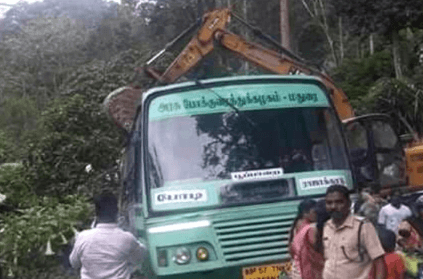 More than 80 people, who were travelling in a Tamil Nadu State Transport (TNST) bus, would have lost their lives, had it not been for Kapil.

The bus was making its way atop a hill, when the driver lost control. The bus slipped off the road and hurled towards a ravine. That is when Kapil, a JCB Excavator operator in the Idukki district of Kerala decided to step in and help.

Kapil, who was working on his regular shift, saw the TNST bus lose control. He immediately put his JCB in gear and started driving towards the bus. The JCB is perfectly suited for the hilly roads and Kapil is well-experienced in handling the vehicle.

The JCB, operated by Kapil, approached the bus and held the TNST vehicle with the JCB's front handle. This stopped the bus from skidding down further into the ravine, and gave enough time for passengers to get off the bus.

Kapil made sure that every person was out of the bus, before he pushed the bus back on road. He held the bus in its place for about an hour. According to a report in Navbharat Times, passengers of the bus had tears in their eyes as they thanked Kapil, who saved them from the fatal accident.

Yes, Kapil was fortunately there at the right place at the right time. But his quick thinking and action helped saved the life of countless passengers. Kapil is a great example that heroes can come from anywhere.
next