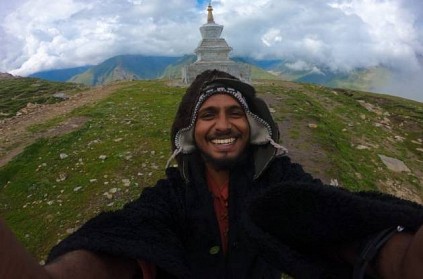 A man from Thalaserry, Kannur did the amazing and travelled around India in 60 days. His experience is a story of adventure and discovery.
Parvez Elahi, aged 25 is an MBA graduate who gave up his job to travel. He toured 22 states all over India and covered a whopping 1,000 kilometres on foot! Interestingly, Elahi covered his trip expenses within Rs 10,000 and only carried a bottle with him to fill up on water wherever possible.
Parvez said, "There are all kinds of experiences, good and bad this journey offered me. However, the many life lessons it taught are incredible and I can't trade it for anything else." Parvez was inspired to travel around India after visiting a Rohingyan camp in Chennai.
After spending some time at the camp, Parvez travelled to Dhanushkodi and then to Rameshwaram on foot. His journey had just begun. From there on, it was a trip of bus rides, train and jeep rides and hitchhiking. Parvez also made it a point to not spend a penny on hotels. Instead, he opted to stay outside.
It was when he went to Manila, he heard about the floods in Kerala. Parvez took to the streets with a sign to help contribute to his State. "I was so humbled to see people coming forward to help me. From the local salesmen around to tourists from China and Japan, help started pouring in," Parvez fondly recalls.
Parvez continued on to Punjab, Waga border, Haryana, Delhi, Rajasthan, Ahmedabad, Madhya Pradesh, Karnataka and Goa. While in Punjab, he learned of the scarcity of sanitary napkins in Kerala. With whatever money he could gather, Parvez bought napkins and sent it to Kerala.
After the end of 60 days, Parvez has finally come back home to Kerala and will be handing over the money he gathered. "I will soon be handing it over to a minister at a programme. It has coins to big notes and I hope it makes a good contribution," says Parvez.
The Kerala man had a trip of his lifetime. Not only did he garner beautiful memories from the journey but also hard biting experiences as well. From harassment from men to the wonderful architectural wonders he saw, Parvez witnessed it all. With the perfect mix of good and bad, Parvez returns home with a heart filled with content and lessons.
next