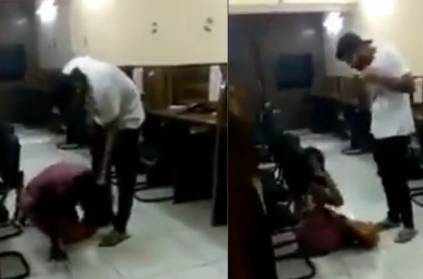 A disturbing video of a young man thrashing a woman at an office in Delhi has circulated online. The video taken and uploaded by the man's friend was so disturbing that Home Minister Rajnath Singh ordered the police to take action.
The accused, Rohit Singh Tomar is the son of a Delhi cop. In the video, he can be seen pulling the woman by her hair and hitting her. He also uses his knees and elbows to land the blows so as to inflict maximum pain. Even the friend taking the video at one point can be heard saying, "Rohit, stop it...Enough!"
The video was taken on September 2 but nobody made any complaints. On Thursday, the Rohit's fiancee went to the police station and filed a complaint against the man. She stopped their impending marriage after watching the video of Rohit thrash the woman. The fiancee also alleged that the woman was Rohit's colleague.
On Friday, the victim herself went to the police and filed a rape complaint against Rohit. Allegedly, Rohit called her to their office and had raped her. When she threatened to go to the police he thrashed her.
next