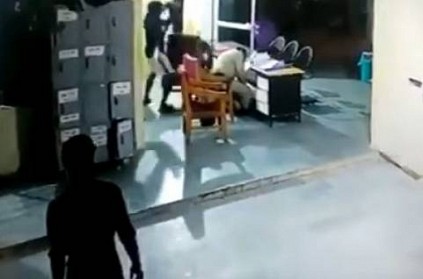 A prisoner went violent at a police station in Bhind district in Madhya Pradesh, which was caught on CCTV.
From the CCTV footage, the prisoner can be seen sneaking up behind two police officers and striking them on the head with a pickaxe. He hits the first officer who falls down unconscious when the other begins to react. The prisoner continues to attack the second officer who also does not get up.
Following his attack, the prisoner can be seen walking out the door. The two officers were rushed to the hospital where one of them succumbed to his injuries.
The incident reportedly took place on September 9 and the prisoner arrested the next day.
#WATCH Dramatic visuals of an undertrial prisoner viciously attacking two prison guards at a police station in Bhind on 9th September. One police personnel has been referred to Delhi for treatment, another is under treatment at a district hospital in Bhind (Source: CCTV footage) pic.twitter.com/eXEQ5eH51y

— ANI (@ANI) September 11, 2018
next