WOMAN'S LIPS SWELL TRICE THEIR NORMAL SIZE AFTER BOTCHED INJECTION
Home >
News Shots >
World
By

Behindwoods News Bureau

|

Dec 09, 2018 01:00 PM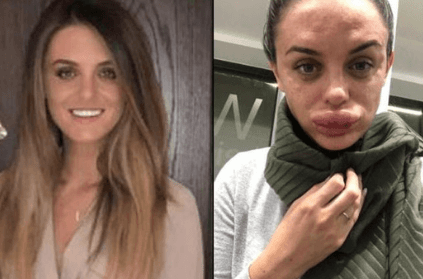 Getting Botox doesn't always go the way you plan and 29-year-old Rachael Knappier from Leicestershire learnt that the hard way. She had a lip-filler injection at a friend's house.

After she received the injection, she shouted out in pain for which she was told that the pain was normal and happens with everybody. But the normal soon turned to tragedy. In time, her condition got worse and she soon had to go to the hospital. Her lips had swelled to an unnatural size by this time.

Within few hours of the injection, Rachel's lip started to swell and her upper lip was swollen to thrice its original size. According to a report in the BBC, the woman contacted the beautician who gave her the injection. She was advised to put an ice pack on the lips.

But when her lip kept growing in size despite applying the ice pack, she immediately rushed to emergency at a hospital.
Rachael Knappier's lips tripled in size after she got fillers from a beautician at a botox party.

She's now warning others about the dangers of getting cosmetic treatments from non-medical professionals.

Read about Rachael's story in full: https://t.co/9JrKEKnTBi pic.twitter.com/QLzIXarLVq

— ITV News Central (@ITVCentral) December 6, 2018
After consulting a local aesthetic nurse, she then went to a professional clinic in London, where the doctors dissolved the filler. After 72 hours, her lips went back to the normal size.

After the incident, the woman took to social media to outline the dangers of getting lip injections. She has started a petition against dermal filers being injected by those other than doctor, something which is currently allowed in the UK.
It was then confirmed that the woman mistakenly injected the filler into an artery which caused her mouth to swell within hours, cutting off the blood supply to her lips. Rachael told newspapers in the UK that she was left traumatised by the incident and she also started a petition calling for aesthetic medical treatments to only be performed by doctors, nurses, and dentists.
next