WATCH | RESTAURANT SHUTS DOWN AFTER VIDEO SHOWS EMPLOYEES COOKING RAT ON GRILL
Home >
News Shots >
World
By

Behindwoods News Bureau

|

Nov 26, 2018 10:17 AM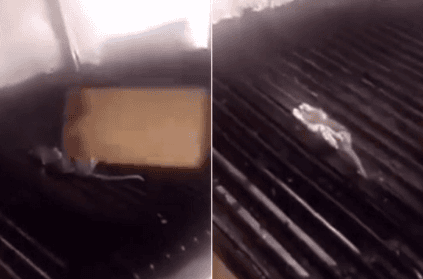 *Disclaimer - The visuals or description provided in this article might be disturbing to some people. Viewer discretion is advised*

In a disgusting bit of news, a reputable burger joint has been forced to pull down its shutters after a video of an employee cooking a rat on the grill surfaced online.

Teddy's Bigger Burgers shut one of its locations down and fired two employees who recorded themselves cooking a rat on the restaurant's grill. The video did the rounds on Snapchat earlier this week.

The horrifying video had such a huge impact that the joint had to be closed down following the episode. According to the officials at the chain, they decided to shut it down in order to sanitize the place and bring in brand new equipment and utensils.
"We are horrified a former employee would create something like this trying to destroy our reputation without regard for our 20-plus years of quality and aloha," read a statement from Teddy's president Richard Stula.

The location has been closed for a "complete sanitation," and will be inspected by corporate higher-ups before re-opening. In addition, the Hawaii Department of Health will inspect the premises on Friday.
Tags :
#FACEBOOK #RESTAURANT #HYGIENE #VIRAL VIDEOS #TRENDING
next