WATCH | INCREDIBLE MOMENT WHEN A DOG SAVED A PENALTY DURING FOOTBALL MATCH
Home >
News Shots >
World
By

Behindwoods News Bureau

|

Nov 21, 2018 12:06 PM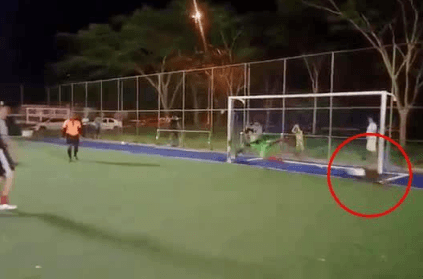 Every dog has its day! One pooch proved it as it miraculously saved a penalty during the shootout of a football match.

In a new video that has gone viral, a Dachshund waltzing on to the pitch from behind the goal – oblivious to the football match that was nearing a conclusion. But the shootout was made more interesting when the 'sausage-like' dog expertly denied the player from scoring – much to the amazement of those watching.

With the goalkeeper diving in the opposite direction, the pooch wandered just inside the bottom right corner at the most crucial time. Before the ball could make it to the nets, it bounced off the dog's body and away from the goal.

Spectators and players were left stunned as the goalkeeper cheered and applauded as the initial penalty taker was left wondering what on earth just happened. Even the officials looked confused as to what happens next as both sets of players surrounded them as they argued whether the spot-kick should be retaken.

Watch the video here
Tags :
#TWITTER #FOOTBALL #PENALTY #GOALKEEPER #DOG #VIRAL VIDEOS #TRENDING
next