IS THAT HERMIONE GRANGER? THIS GIRL IS A SPITTING IMAGE OF YOUNGER EMMA WATSON FROM HARRY POTTER
Home >
News Shots >
World
By

Behindwoods News Bureau

|

Nov 21, 2018 10:36 AM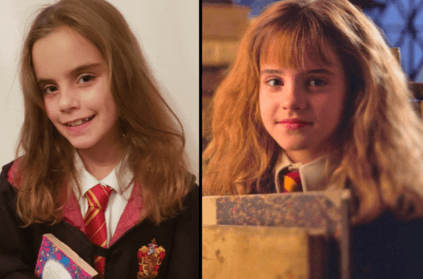 We have news for you potterheads! We're sure you all remember Hermione Granger from her younger days in Harry Potter?

The internet just found Emma Watson AKA Hermione's doppelganger. And the resemblense will make your jaws drop! In fact, the little girl looks so much like the younger version of Hermione that her parents say she gets stopped on a weekly basis by strangers who can't believe the likeness.

Nine-year-old Emmie Allan looks so much like a young Emma Watson, that her pals have nicknamed her Hermione. And to add it to the fact that she already shares incredibly similar features, little Emmie has even got some Gryffindor robes she wears for fancy dress.

"I do get excited for her looking like Emma. It's very funny. It's definitely a flattering look alike. It was around three years ago that we realised she looked like Hermione. Since then all of our friends and family know, and friends call her Hermione as a nickname," said her mother, Sherelle Allan.

Her mother said that people also say that if Emma Watson wants to do a film where there is a flashback to her childhood then, Emmie would be perfect for the role. With their faces looking alike, their names are also similar.

Little Emmie hopes to one day be an actress or model, like her doppelganger Emma. Meanwhile, her mum reckons that she may outgrow looking like the actress, but that hopefully she'll have a lot of lovely memories.
Tags :
#TWITTER #HERMIONE GRANGER #EMMA WATSON #DOPPELGANGER #BUZZ #VIRAL #TRENDING
next