HOMELESS MAN'S FRIENDLY CANINES WAIT PATIENTLY OUTSIDE HOSPITAL FOR HIS SAFE RETURN
Home >
News Shots >
World
By

Behindwoods News Bureau

|

Dec 14, 2018 12:42 PM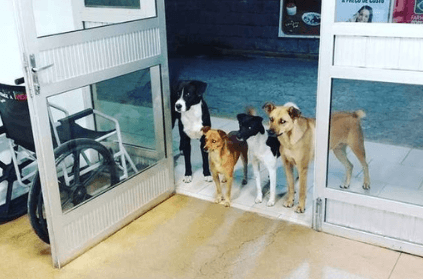 No other creature embodies loyalty like a dog. The adorable canines are probably the only creatures in the world, who love you unconditionally, throughout their lives.

This week, healthcare worker Cris Mamprim and her colleagues at Hospital Regional Alto Vale in Brazil bore witness to a touching scene that none will soon forget. According to a report in The Dodo, Cesar, a homeless man admitted himself to the Regional Alto Vale hospital to receive treatment for a persistent health problem he was suffering from.

Healthcare worker Cris Mamprim and her colleagues were going through the man's background, when they witnessed an astonishing sight. They realised that the homeless man had a family waiting for him outside the hospital.

Looking just outside the hospital's front door, the staff saw that a group of faithful canine companions were eagerly awaiting his safe return.

The staff came to learn that the man had taken it upon himself to care for the dogs, who otherwise would be without a friend in the world. Touched by the gesture of these furry creatures, Mamprim invited them for a feast along with César. After half an hour of treatment, César left the hospital with his gang by his side.

The health worker then took to Facebook to share the heartwarming episode. "He has the best companions with him. I do not know what his life is like, or why he's on the street, but I admire the respect and love he has for his little animals. If only everyone were like this," she wrote in her post.
Tags :
#FACEBOOK #BRAZIL #DOGS #LOYALTY #BUZZ #VIRAL #TRENDING
next