CHOCOLATE RIVER FLOWS THROUGH TOWN IN A SCENE STRAIGHT OUT OF 'WILLY WONKA & CHOCOLATE FACTORY'
Home >
News Shots >
World
By

Behindwoods News Bureau

|

Dec 13, 2018 04:59 PM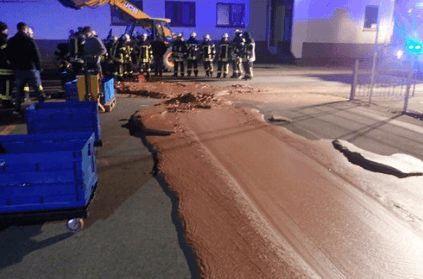 In a scene straight out of the popular film 'Willy Wonka & the Chocolate Factory', around a ton of liquid chocolate flowed out of a factory and caked a street in a west German town.

An accident at the chocolate factory in Westoennen due to a "small technical defect", caused the outflow. A tank at the factory had overflowed, prompting a river of chocolate to breach the factory grounds and ooze onto the nearby street

Soon, the leaked liquid chocolate - about a ton in all - solidified in the cold December air, creating the magical scene. After the 2,000 pounds of milk chocolate hit the cold pavement, it quickly hardened, creating an unusual problem that local firefighters had to tackle.

The street was closed off as roughly 25 firefighters worked to shovel off the candy coating. A special cleaning company was brought in to finish the job. Comparisons to "Willy Wonka and the Chocolate Factory" were inevitable on social media.
Tags :
#TWITTER #CHOCOLATE #CHOCOLATE FACTORY #BUZZ #VIRAL
next