INDIGO AIRCRAFT ENGULFED WITH THICK SMOKE; PASSENGERS EVACUATED BY EMERGENCY SLIDE
Home >
News Shots >
India
By

Behindwoods News Bureau

|

Dec 11, 2018 04:06 PM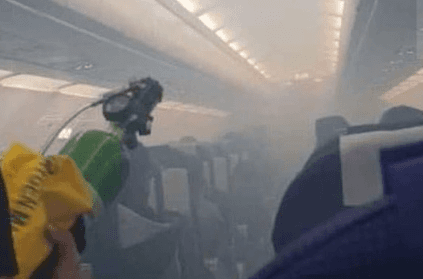 An IndiGo flight made an emergency landing at Kolkata airport after a smoke alert. A video has emerged of the potentially catastrophic situation during an IndiGo flight from Jaipur to Kolkata last night with 136 passengers onboard.

Shot by a passenger inside the flight, the video shows thick smoke in the cabin of 6E-237.
Babies wailing, air hostesses on the standby with oxygen cylinders ... thick smoke in the cabin of a new IndiGo A-320neo which made an emergency landing in Kolkata last night. 136 passengers onboard. Smoke on a plane is a known killer. pic.twitter.com/VJGMIQoauk

— Vishnu Som (@VishnuNDTV) December 11, 2018
According to an NDTV report, the A-320neo airbus was approximately 45 miles from Kolkata when the pilots onboard the airliner transmitted a ''Mayday'' call on radio, indicating to Air Traffic Control that the aircraft and passengers onboard were in grave danger.

As per the report, quoting sources, the ''smoke (was detected) in the cockpit, cabin and lavatory.'' While IndiGo has confirmed the emergency landing, their official statement says there was ''suspected smoke in (the) cabin.''

A second video shows some passengers being evacuated from the aircraft on an escape chute once it landed safely.
After the IndiGo emergency landing in Kolkata ... some passengers were evacuated from a chute at the rear. The A-320neo is still grounded. Engineers still apparently unclear about what happened. pic.twitter.com/ssapifmsVo

— Vishnu Som (@VishnuNDTV) December 11, 2018
The IndiGo A-320neo, which was involved in yesterday's incident, remains grounded in Kolkata at the moment with airline maintenance staff trying to understand what caused the smoke onboard.
next