MEET THE REAL LIFE 'PAKSHIRAJAN' WHO LIVES WITH PARROTS FROM 29 DIFFERENT COUNTRIES
Home >
News Shots >
India
By

Behindwoods News Bureau

|

Dec 06, 2018 01:55 PM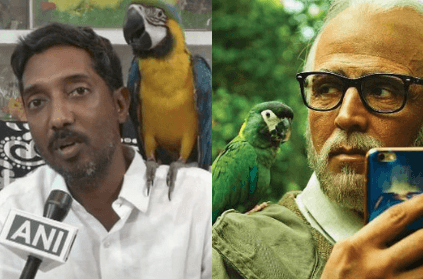 Birds are like family for some. Inspired by Akshay Kumar 'Pakshirajan' character in the blockbuster '2.0', this Karnataka-based veterinary doctor treats birds like his family. Kumar's character in 2.0 was known for his love for birds and was bent on saving them from the harms of technology.
Vishwanath Hegga, who is reportedly "crazy" for birds, boasts of a wide collection of 29 different species of parrots from various parts of the world. "I am a veterinary surgeon working with the state government. Now I am breeding parrots from 29 countries. I started with lovebirds which I got from New Zealand," he told new agency ANI.

For Hegga, it is a matter of passion and dedication as he trains the birds at his house. "We feed them with cerelac, imported from Brazil, four times a day. We have named the birds and they respond when we call them by their names. My entire family loves them," he said.

Thanks to his passion, his family now enjoys time with the birds too. Hegga's wife, who loves dogs, has now grown fond of the parrots.

"I take care of the birds and dogs in the house. Very happy to see my husband being able to understand pets' emotions and loving them like our own children," she said.
Karnataka: Vishwanath Hegga, veterinary doctor in Kalaburagi has collected birds of 29 different species from different countries; says "I'm a veterinary surgeon working with state govt. Now I'm breeding 29 country's parrots. I started with lovebirds which I got from New Zealand" pic.twitter.com/yHYCkmDLja

— ANI (@ANI) December 5, 2018
For the residents in the colony too, these parrots are a treat to watch. "We all neighbours visit Dr Hegga's house during weekends. It's very relaxing to be with the birds and be close to nature," said one of the residents in the area.

Another advantage of keeping the birds at home, Dr Hegga feels is that his children's communication has improved while trying to talk to the birds and he feels great to watch them grow together.
*With inputs from ANI*
next