WATCH | INDIAN SOLDIERS SHAKE A LEG WITH CHINESE TROOPS AFTER JOINT MILITARY EXERCISE
Home >
News Shots >
India
By

Behindwoods News Bureau

|

Dec 13, 2018 03:23 PM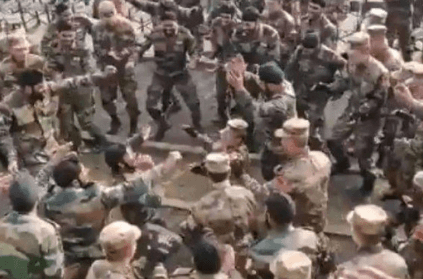 Troops in India and China got together for the 7th Sino-India joint exercise Hand-in-Hand 2018 at Chengdu in China.

Despite tension between the two Asian giants over the Doklam region, and other Chinese excursions into Indian-held territories, soldiers from both countries came together in a rare display of amity and mutual respect.

In between the obstacle courses and field maneuvers, there was dancing and music, with fancy footwork extending to the football field where teams from both sides played a friendly match. Videos of the same were shared on the Indian Army's official Twitter handle.
Ex #HandinHand2018, Troops of #IndianArmy landed at #Chengdu, #China for India China Joint Training Excercise. Both countries will jointly carry out practice of various operations in a counter terrorism environment.#Synergy#Interoperability #UnitedNations pic.twitter.com/qbQq3iTw74

— ADG PI - INDIAN ARMY (@adgpi) December 10, 2018
Ex #HandInHand2018, India China Joint Training Exercise commenced at #Chengdu #China with a glittering opening ceremony. The exercise aims to practice #CounterInsurgency #Operations under #UnitedNations mandate. #PLA #IndianArmy @PIB_India @SpokespersonMoD pic.twitter.com/LcfNUQwZLt

— ADG PI - INDIAN ARMY (@adgpi) December 11, 2018
Soldiers from both sides also shared lighter moments, with the Indian troops teaching their counterparts couple of dance moves. It has created a huge buzz online and people are thrilled to see this kind of 'quirky' joint exercise.
Ex #HandInHand2018. 'Bole So Nihal Sat Sri Akal'. Troops of #IndianArmy & #ChineseArmy sharing lighter moments after practicing gruesome Battle Obstacle Course. #Synergy #Interoperability #UnitedNations @SpokespersonMoD @PIB_India pic.twitter.com/A3saAO4T8P

— ADG PI - INDIAN ARMY (@adgpi) December 12, 2018
The aim of the exercise is to build and promote close relations between armies of both the countries and to enhance the ability of the joint exercise commander to take military contingents of both nations under command, the Army said in a press release.
next