BELIEVE IT OR NOT! THE LATEST BEAUTY TREND INVOLVES SETTING YOUR FACE ON FIRE
Home >
News Shots >
World
By

Behindwoods News Bureau

|

Dec 12, 2018 05:44 PM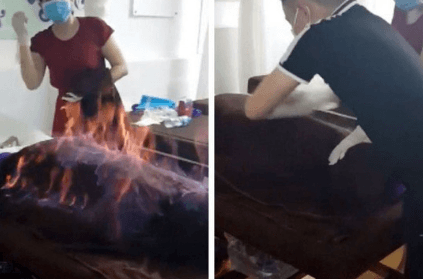 As a society, most of us are ready to go to any lengths to fit into the beauty standards. But most of the times, it isn't easy!

We've always heard that but some beauty treatments just boggle the mind. From vampire facials to snail and caviar facials, the world has seen it all. But this latest trend will boggle your mind. The latest skincare fad is – Fire Therapy from Vietnam.

Yes. Fire therapy is real. The procedure involves soaking towels in alcohol and then setting them alight. These towels are placed on the face or body for 30 seconds to a minute. The fire is extinguished by placing a dry towel over it. Men and women in Vietnam are getting it done to burn away impurities and excess fat.

According to a report in Vietnam News, the National Hospital of Acupuncture in Hanoi is testing the therapy. Some claim that it can prevent and cure headaches, sleeplessness, and muscular pain.

The Health Department has only licensed and trained doctors of Ho Chi Minh City Traditional Medicine Institute. Any other fire therapy practitioner is unlicensed. Salons that are offering this treatment are putting people at risk. Risk of asphyxiation for both patients and therapists.

However, the risk has not deterred locals from trying it out at beauty salons. They have gone underground and are illicitly promoting the treatment. They are inviting customers and charging something as low as VNĐ200,000-250,000 (INR 600-750).

Don't believe us? Look for yourself
next