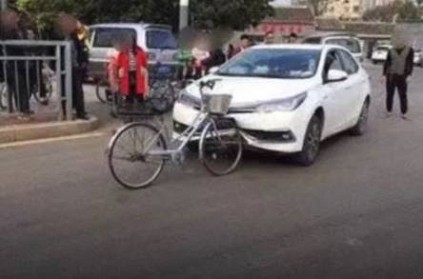 A bizarre picture has been making its rounds on social media baffling netizens. From the picture, one can make out that a car and a bicycle crashed into each other. However, strangely, it was the bicycle that won the round.
The viral photo features a car's front bumper completely damaged by a bicycle. Funnily enough, the bicycle seems absolutely undamaged. The accident reportedly took place in the city of Shenzen in south China.
Many could not believe if the picture was genuine. Hence as proof, a video was released assuring that the bizarre accident was in fact, true. Reportedly, nobody was seriously injured in the accident, except for the bicyclist, who suffered minor injuries.
next