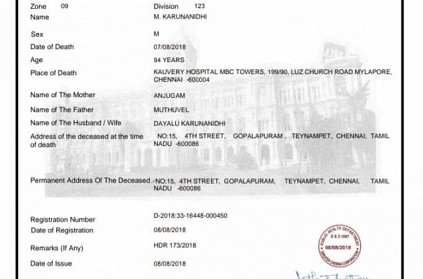 Dr M Karunanidhi passed away at 94 at the Kauvery Hospital on August 7 at 6.10 pm after being admitted for 11 days. Kalaignar's death came as a shock to the millions of Tamil Nadu citizens and left everyone in sadness.
The DMK Chief was kept at Rajaji Hall for public view in the early hours of Wednesday. After winning the case against the TN govt for burial at Marina, his body was taken in the form of a funeral procession around the city at 4 pm. His family conducted the last rites and then Kalaignar's body was lowered into the ground with the honour of 21-guns salute.
The DMK patriarch's death certificate was released in a short while after his burial. Details of the veteran along with the date and place of his death were provided. Anjugam and Muthuvel were named as the mother and father of Karunanidhi respectively and Dayalu Karunanidhi was named the wife.
next