KERALA TOURISM TWEETS PHOTO OF 'AVIYAL'; GET BRUTALLY TROLLED BY UNCONVINCED MALAYALIS
Home >
News Shots >
India
By

Behindwoods News Bureau

|

Dec 14, 2018 04:15 PM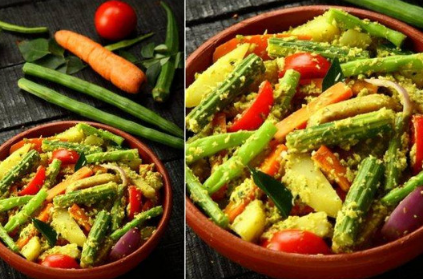 When it comes to food, especially the specialty or staples of different regions, there's a certain sanctity to it. They are classic dishes preserved across centuries. But a quintessential dish from the southern state of Kerala has caused a furore on Twitter.

The dish in question is Aviyal! It is a thick mixture of vegetables and coconut, seasoned with coconut oil and curry leaves.

However, the Kerala Tourism's recent tweet on Aviyal has caused quite a furore among the Malayali community. Here's what they shared on social media.
Aviyal, a popular accompaniment served with boiled rice is nothing but a medley of native vegetables in a thick coating of coconut paste. pic.twitter.com/hg4gxqiyAN

— Kerala Tourism (@KeralaTourism) December 11, 2018
Little did they know that their version of the 'Aviyal' would invite trouble!

What followed was a brutal trolling session. The Malayali community on Twitter refused to accept it as their staple. The main point of criticism was that the vegetables looked too raw and that the photo remotely resembled the dish.

Some even trolled the Tourism handle, thanking them for mentioning it was 'aviyal' or else they would have thought of it as a salad. Within hours, there was a flurry of replies to the tweet.
This is the aviyal before it's put in cooker 😉

— sanjit (@sanjitraghavan) December 11, 2018
Change ur PR agency @KeralaTourism . This isnt avial, but looks like a hyper veg version of caesar salad #fail

— spookypeeker (@ambidxtruscripl) December 11, 2018
Never seen aviyal having tomatoes and brinjal or even ladies finger

— Prasad Mani (@Rasa_Prasad) December 11, 2018
Tomatoes in aviyal? Time for a defamation suit !

— roopapraveen (@roopapraveen) December 13, 2018
Payasam according to @KeralaTourism pic.twitter.com/EVHZsFRa7X

— Pravasi INDIAN (@NRIInvestor) December 12, 2018
Kerala Pepper beef fry. pic.twitter.com/PZJoQzFqmM

— Rafull Gandhi (@RafullG) December 12, 2018
You guys better watch out my 70 year old mother is going to wring your neck for putting tomatoes into avial. Sack the person who made this.

— Sunil Nair (@spuriousmallu) December 12, 2018
next