A CLASS 7 DROPOUT, THIS 69-YEAR-OLD MAN HAS DEDICATED HIS LIFE TO SERVING THE UNDERPRIVILEGED
Home >
News Shots >
Inspiring
By

Behindwoods News Bureau

|

Dec 14, 2018 03:29 PM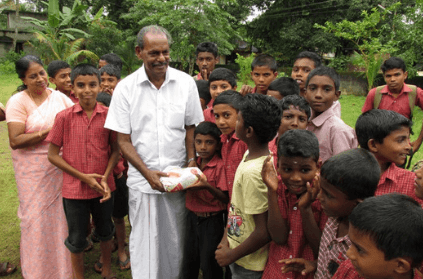 69-year-old PU Thomas has been on a mission to improve the quality of life of the downtrodden.

Fondly known as 'Thomas Chettan' in the villages of Kottayam, his day starts off on a busy note almost every day. He begins his day by visiting the members of his organisation, the Navajeevan Trust.

Come afternoon, Thomas and his associates set out on a mission to provide 5,000 packets of homemade food to the patients and visitors of three different hospitals in Kottayam, followed by tea, as well as dinner. His kind and humble gesture has won him the love and blessings of hundreds of people from the area.

About 40 years ago, Thomas was diagnosed with a peptic ulcer. He had to suffer in the general ward of a hospital for almost 22 days, with no money in hand. The then 19-year-old was moved to see the struggle of patients with no money for a even a single meal.

It was then that he decided to serve the people. The experiences he faced in his own life instilled in him a compassion for the downtrodden, inspiring him to start this Trust.

Unlike other rehabilitation centres, there are no armed guards or cells. Over 4,000 patients have regained their mental balance after coming to the Navajeevan Bhavan and some continue to be volunteers at the Trust.

The Trust's food distribution system, which Thomas started at a micro-level at the Institute of Child Health, Kottayam, in 1970, gradually gained momentum. Today, over 5,000 patients from three different hospitals in Kottayam are given home-cooked meals on a daily basis. During bandh and hartal days, these numbers escalate.

However, one of the most important missions of the Trust is to generate a sense of awareness among society to be a source of comfort for those in need!
*Originally published in Better India*
Tags :
#KERALA #NAVAJEEVAN TRUST #SERVICE #BUZZ
next