The team Santhoshathil Kalavaram is feeling happy to have actor Vishal launch the first look of their movie. The team ennobling Vishal as a real hero are so much in seventh heaven for this greater moment that they believe will definitely upgrade the graph of their movie.

The film is directed by Kranthi Prasad and is produced by Thimma Reddy VC and under the banner Sri Guru Cinemas.

The star-cast comprises of actors from different regional film industries - Niranth, Rudra Aara, Aaryan, Jai Jagannath, Rahul C Kalyan, Gauthami, Sowjanya, Shivani, Apeksha are the newcomers playing lead roles.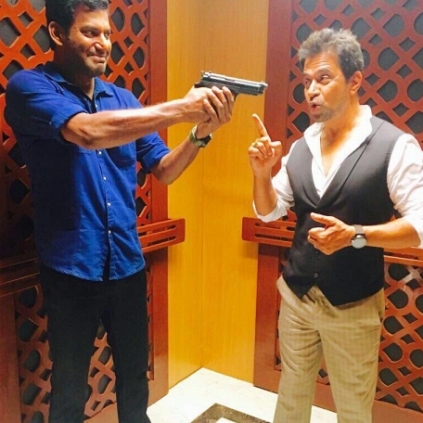 Vishal's Irumbuthirai, co-starring Samantha, and Action King Arjun, in debutant P.S.Mithran's direction, is releasing next weekend, on May 11.

Prior to the release, the team has now decided to release the trailer of the film, which is expected to release this evening on all the digital platforms. It can be recalled that the teaser of the film created a good anticipation among the audience, and was promising enough with a unique content.

Let us wait for few more hours to know what the trailer of IT has in store for us.