Many famous personalities are offering their help to the distressed NEET candidates who are facing the situation of having to travel as far as Sikkim, Gujarat, Rajasthan etc., to write their exams.

Actor Kasthuri too is one of them. She announced her noble gesture on Twitter:

"NEET பாலக்காடு , எர்ணாகுளம் சென்டர்களில் நீட் தேர்வு எழுத வேண்டிய பிள்ளைகளுக்கு தங்கும் இடம் , உணவு ஏற்பாடு செய்து தருகிறேன். உங்கள் ஹால் டிக்கெட், பயணவிபரம் whatsapp இல் அனுப்பவும் . தொடர்புக்கு- Kasthuri , jai 9789895953. Please share"

Roughly translated into English, the post reads:

"I can arrange lodging and food for students whose NEET Exam centres are at Palakkad or Ernakulam. Please send me the details of your hall tickets and travel on WhatsApp.

Contact: Kasthuri - 9789895953"

Bravo, Kasthuri!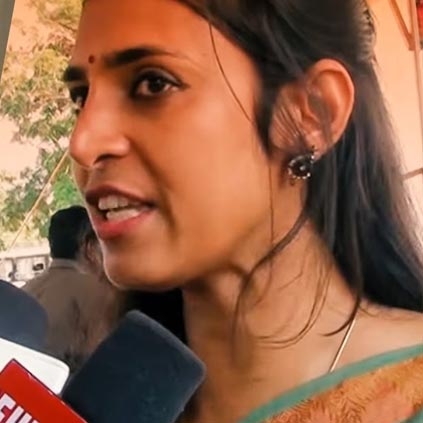 The RK Nagar by-election polling results are out, and it is now official that TTV Dhinakaran has taken a massive victory with a difference of 40,707 votes.

Speaking about the polling, actress Kasthuri told us that the results remind her of 'Pink Gandhi'. She further added that, "People have voted for Dhinakaran as they see AIADMK as a branch and benami of BJP. Dhinakaran's personality is such that he has drawn even those who don't usually vote."

"The CM Palaniswami supporters, who are opposed to OPS camp, and TTV Dhinakaran supporters in the ruling faction of AIADMK have worked in favour of Dhinakaran," she further added.

Kasthuri also took to her Twitter space to share more about the by-polls, "BJP trails NOTA 🤣🤣TamilNadu 👍👍😍At least NTK & BJP had the balls to face election. PMK ,DMDK great escape .Congress, CPI, CPM, MDMK, VCK MMK , had they contested, wud have done worse. As it is, they have added max 30 votes to DMK tally."

*Tweet is not spell-checked
Kasthuri offers to sponsor lodging and food facilities for NEET candidates at Palakkad Ernakulam
People looking for online information on Kasthuri will find this news story useful.