WATCH | FLIGHT ENGINE COVER FALLS OFF MID-AIR; PASSENGERS FREAK OUT
Home >
News Shots >
World
By

Behindwoods News Bureau

|

Dec 03, 2018 01:29 PM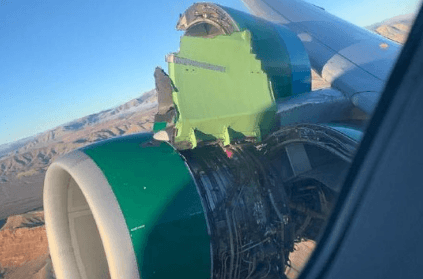 Imagine sitting inside a plane only to watch the engine cover fall off mid-air!

In a video doing rounds online, a Frontier Airlines flight from Las Vegas to Florida had to return to Las Vegas Friday morning after a portion of the engine cover blew off during takeoff. Luckily, no one was harmed and the plane landed safely at Las Vegas' McCarran International Airport.

"During takeoff on Frontier flight 260 from Las Vegas to Tampa this morning, a section of an engine cover called a cowling came loose and separated from the aircraft," a Frontier Airlines representative told Business Insider.
So, my hockey buddy CJ Gunnerson took this pic out his window today.
His @FlyFrontier flight had to make an emergency landing at Vegas.
"The hatch came up and ripped off during take off," he tells me.
People were "jumping up screaming, slamming on the roof. Yelling stop."@ABC10 pic.twitter.com/d2LEpdD6p6

— Brandon Rittiman (@BrandonRittiman) November 30, 2018
Another passenger said there was a riot-like situation inside the plane and people were jumping, screaming and running. As per reports, a huge metal cover was ripped from the plane, leaving the engine exposed.
Tags :
#FLIGHT #AIR SCARE #FRONTIER AIRLINES #BUZZ
next