BUSINESSMAN GETS LUXURY CAR DISMANTLED TO RESCUE KITTEN STUCK INSIDE HIS VEHICLE
Home >
News Shots >
India
By

Behindwoods News Bureau

|

Dec 03, 2018 10:43 AM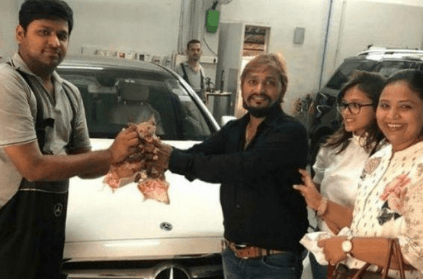 In a commendable act of humanity, a businessman from Gujarat had his luxury car dismantled to rescue a kitten that was stuck inside his vehicle.

Jayeshbhai Tailor, a Surat-based businessman was on a trip to Siddhivinayak Temple in Mumbai when he heard a cat's purring sound inside his Mercedes E-Class sedan. What followed next was nothing short of an adventure for Tailor and his family. The family went out of their way to rescue to little kitten, that somehow managed to find its way into the car's bonnet.

With the help of some good Samaritans and onlookers, the family began searching for the source of the sound. "We also sought help from a few cops who were passing by. But none of us could do much. The tiny ball of fur remained hidden from sight," said Tailor.

After hours of failed attempts, Tailor and his family decided to take the car to the Mercedes showroom. At the workshop, Tailor was told that the lower part of the vehicle had to be dismantled in order to rescue the kitten. And so it was done!

It took technicians three hours to find the stowaway because it remained silent throughout, making it even more difficult to locate it.

Once the kitten was brought out, the first thing the family did was get some milk and feed it. "After pacifying the kitten and ensuring it was comfortable, we handed it over to an NGO," Tailor said.

Amid all this flurry of activity, the visit to the temple was forgotten. "Regardless of the trouble we had to put up with, this act of saving a little life is pleasing to god," said Tailor's wife Manisha.
*Originally published in Times of India*
Tags :
#MUMBAI #MERCEDES #HUMANITARIAN #BUZZ #TRENDING
next