LOSING HIS LEG IN AN ACCIDENT DIDN'T STOP THIS FOOTBALLER FROM PLAYING
Home >
News Shots >
Inspiring
By

Behindwoods News Bureau

|

Nov 30, 2018 10:12 AM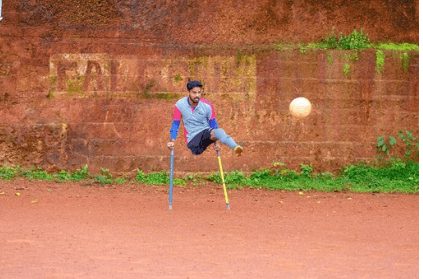 Though Vyshak lost his leg 11 years ago in an accident, it didn't stop him from doing what he loved – playing football. Today, he is a part of the Indian amputee volleyball team as well as the first amputee football team of India.

"My uncle was standing next to my bed at the ICU. I felt a throbbing pain on my right leg. I asked him if he can massage it. On hearing this, he ran out of the room, crying. I tried to move my hand to massage my leg but couldn't feel it. I lifted my head and found that my leg was not there," narrates Vyshak.

"I was someone who always wanted to do some or the other outdoor activity. And naturally, I hated to study! The only thing my friends and I did during summer vacations was playing football the entire day," Vyshak told The News Minute (TNM).

Tragedy struck when Vyshak was on his way to his aunt's house. He was on the road when a KRCTC bus hit his vehicle, causing him to lose balance and fall on the road. "While I was lying on the road, a vehicle ran over my legs." he adds.

"There was only one thought in my head while I was lying on my hospital bed - how will I play football now?" he recalls. Vyshak also had to spend two months in physiotherapy to strengthen his left knee.

However, it helped that his friends helped him feel more normal, and treated him like before. "My friends were the only people who behaved normally with me. They used to come home straight from school and play all sorts of games like carrom and chess - the ones that can be played while sitting down," Vyshak fondly recalls.

One day, Vyshak realised that he was able to pick up speed even while walking with crutches. "I thought if I can walk really fast with my crutches, I should be able to kick the ball as well," he recounts. And thus began Vyshak's return to the game he loved!

Vyshak began searching for amputee football players and in this process, he got acquainted with Kishore, a man who works with handicapped athletes. "Kishore sir told me that there was no amputee football team as such but there was an amputee team for Kerala volleyball."

And just like that, Vyshak who became a member of the Kerala volleyball amputee team went on to represent the Indian Volleyball amputee team.
*Originally published in The News Minute*
Tags :
#KERALA #FOOTBALL #NDIAN VOLLEYBALL AMPUTEE TEAM #BUZZ
next