SEPARATED DURING PARTITION, MUSLIM SISTERS MEET SIKH BROTHER FOR THE FIRST TIME SINCE 1947
Home >
News Shots >
India
By

Behindwoods News Bureau

|

Nov 27, 2018 01:53 PM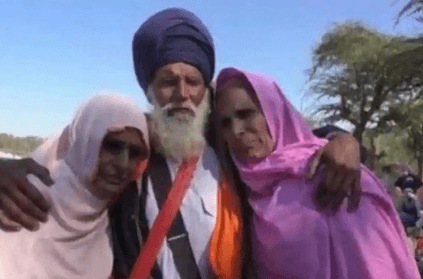 Nankana Sahib, one of the holiest sites of Sikhism witnessed some emotional scenes on the occasion of Guru Nanak 's 549th birth anniversary.

Siblings who got separated during the partition in 1947 met for the first time in over seven decades. According to a report in Hindustan Times, the three siblings originally hailed from a village near Dera Baba Nanak in the Gurdaspur district of Punjab.

Before the partition, the siblings lived with their family members in Paracha village near Dera Baba Nanak. But when they were migrating to Pakistan, the partition violence separated the two sisters from the brother.

The sisters had managed to settle with the family in Pakistan. Beant Singh, however, couldn't cross the border and remained in India.

For more than 70 years, Beant had been in touch with Ulfat and Mairaj through letters. But recently, he finally met them in person after he travelled to Pakistan as a part of the Sikh Janta (group) from India. Speaking to media after the emotional reunion, Ulfat Bibi expressed her desire to be allowed to travel to India where she can meet her sister-in-law and nieces and nephews.

The two sisters have also appealed to Pakistan Prime Minister Imran Khan to extend Bayanth's visa if he cannot be granted Pakistan nationality. The story of the emotional reunion comes at a time when both Pakistan and India are working together to open the Kartarpur Corridor, a pilgrim route to the Gurudwara Kartarpur Sahib in Pakistan.
*Originally published in Hindustan Times*
Tags :
#PAKISTAN #PARTITION #REUNION #1947 #BUZZ
next