MOTHER BREASTFEEDS BABY IN BETWEEN A RACE; INTERNET HAILS HER AS AN INSPIRATION
Home >
News Shots >
World
By

Behindwoods News Bureau

|

Sep 14, 2018 03:02 PM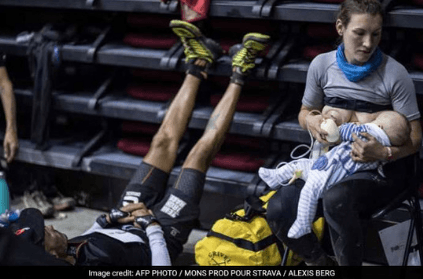 A 36-year-old woman from Britain has given a new meaning to the phrase "multitasking mom".

Sophie Power, a marathon runner, surprised people when she stopped to breastfeed her 3-month-old baby during a 170km mountain race. Sophie, a mother of two children, took 43 hours to complete the gruelling race, and sent out a strong message to all mothers out there.

Sophie was pictured by a photographer, feeding her infant son in one hand and a breast pump in the other. The picture has struck the right chord with people on the internet, who have hailed her as an inspiration to all mothers.

Take a look
"Oh my God, I was in agony! Cormac usually feeds every 3 hours and it took me 16 to get to Courmayeur where he could first meet me so I was hand expressing everywhere I could en route," Power was quoted. "I was so relieved he was hungry!" she added

Sophie's story has gone viral, with hundreds praising her spirit. Here are some reaction
I think you're incredible. I ran ultras when mine were babes and that was tough.. but breastfeeding at the UTMB is another level. You are one tough cookie and a fantastic role model. Huge huge respect. :)

— Kelly Pepper (@kellylouise007) September 8, 2018
What a superb role model! Love this shot!

— Bearhug Sports (@BearhugSports) September 8, 2018
This is insane. I have noting but admiration for this level of strength and determination. What an inspiration! #lifegoals #running

— Dr Laura Blakemore (@dr_elbows) September 8, 2018
Absolutely incredible achievement, you should be v proud. As a fellow breastfeeding running mummy I understand just how hard it is. Serious dedication. Simply wow. 👏

— Lilla Somogyi (@Lilla100) September 9, 2018
Tags :
#INSTAGRAM #MOTHER #BREASTFEED #RACE #MARATHON
next