WATCH | LIONESS STEALS PHOTOGRAPHER'S CAMERA & GIVES IT TO HER CUBS TO PLAY WITH
Home >
News Shots >
World
By

Behindwoods News Bureau

|

Sep 17, 2018 02:10 PM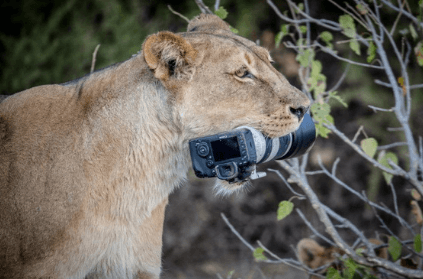 Wildlife photographers often have to face risks when shooting animals. They have to take care of not just themselves, but their belongings too.

In a funny incident, a cheeky lioness took things to a whole new level when she stole a photographer's camera after she accidently dropped it. Barbara Jensen Vorster accidently dropped her camera when she was shooting at the Mashatu Game Reserve in Botswana. She was shooting with her Canon 7D and Canon 100-400mm lens - a camera setup worth over Rs.1,44,910.

Luckily, Barbara had a spare camera to shoot the entire episode that ensued. Take a look
"As soon as one lioness heard the thud, she looked up, growled and approached the vehicle. We had to reverse without attempting to retrieve it," she said.

"The camera fell with the lens looking up, she gently flipped the camera on its side and picked it up by the barrel of the lens," she added. The lioness picked up the camera, and gave it to her cubs for them to play with.

Barbara was later able to retrieve her camera. While the camera had teeth marks on its body, it was nevertheless functioning properly. The camera was "very dirty but appears to still work," Vorster says. "There are two huge teeth marks on the rubber focus rings of the lens and small teeth marks on the plastic lens hood, both of which I decided not to replace."
Tags :
#INSTAGRAM #SAFARI #LIONESS #CAMERA #DSLR #PHOTOGRAPHY
next