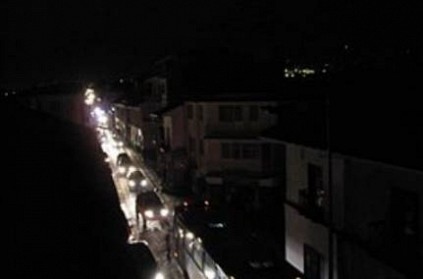 Tamil Nadu Generation and Distribution Corporation (TANGEDCO) has released the list of areas in Chennai to face seven-hour power cut on Wednesday (November 14). The power cut will be scheduled from 9 am to 4 pm due to maintenance works.
TANGEDCO also stated that if the works are completed before 4 pm, then the power supply will be restored immediately.
Here are the areas that will face power cut on Wednesday:
Gummidipoondi SIPCOT – I to IV Area
Gummidipoondi SIPCOT SS I-IV Industrial complex area, Gummidipoondi Bazaar, New Gummidipoondi, Bypass road, Ma Po Si Nagar, Munusamy Nagar, SR Kandigai, Thambureddy Palayam, Rettembedu, Rajapalayam, Perianatham, Mangavaram, Appavaram, Choliampakkam, Ayanallur & Enathimelpakkam, Chithala Kuppam, GP Kandigai, Papamkuppam, Chitrarajakandigai, Madarpakkam, Pallavada, Poovalai, Kannanbakkam, Kondamanalore, Equarpalayam, Arambakkam, Nemalure, Budur, Shirupuzhalpettai, Part of Poovalambedu, GR Kandigai, Kayalarmedu, Elavoor, Pethilkuppam village, Sunnambukulam, Chinaobalapuram, Thalayaripalayam.
Durainallur Area
Arani, Elavambedu, Sompattu, Puduvoyal, Panjetty, Peravallur, Kavarapettai, Chinnambedu, Durainallur.
Ponneri Area
Arasur, Periyakavanam, Eliambedu, Anuppambattu, AR Palayam, Aladu, Perumbedu, Venbakkam, Ponneri, Kodur.
Medur Area
Medur, Pulicot, Avoorivakkam, Kollur, Arasur, Annamalaichery.
Devambedu Area
Devambedu, Agaram, Kallore, Poongulam, Seganiyum, Rakkampalayam.
Irulipattu Area
Alinijivakkam, Athipattu, Irulipattu, Janapachatram, PP Road, Jaganathapuram road, Saikiruba Nagar, Virundhavan Nagar.
Kavarapettai Area
Thandalachery, Panapakkam.
Tags :
#POWERCUT #MAINTENANCE
next