In a shocking incident in Chennai, a leopard cub which was being smuggled from Thailand was seized at the Chennai Airport on Saturday.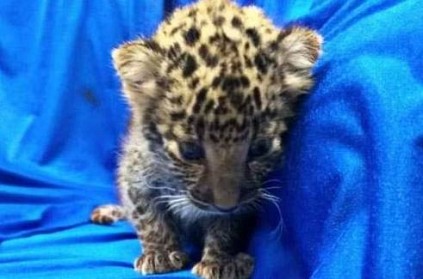 A passenger reportedly tried to smuggle the one-month-old leopard cub from Bangkok, Thailand today morning in his baggage. However, he could not make it past security and got arrested. Reportedly, the cub was found in a shocked state and extremely tired.
The cub was then fed by the airport staff by using a feeding bottle. A video of the staff feeding the leopard baby was released. The cub was reportedly moved by wildlife officials to the Arignar Anna Zoological Park.
#WATCH Air Intelligence Unit at Chennai International airport has seized a one-month-old leopard cub from the baggage of a passenger. The cub will be rehabilitated in the Aringar Anna Zoological Park in Chennai; Passenger handed over to Tamil Nadu Forest Dept for further action. pic.twitter.com/WgYIBabZ4D

— ANI (@ANI) February 2, 2019
Tags :
#LEOPARD #CHENNAIAIRPORT
next