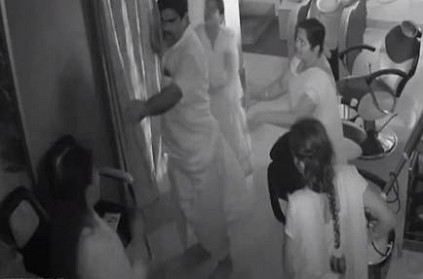 A video of a DMK councillor physically abusing a woman at a beauty parlour in Perambalur went viral on social media.
The video taken on May 25 features DMK leader Selvakumar thrashing a woman at a beauty parlour. The woman can be heard screaming in pain as Selvakumar hits and kicks her. Reportedly, the premise of the assault was based on a loan of Rs 5 lakh the woman had taken from the DMK man. Since she did not return the money back, Selvakumar attacked her.
The video's emergence created outrage among the public with people demanding action to be taken against Selvakumar. The video comes in the backdrop of the Biryani attack and an alleged mobile phone repair shop attack, both by a DMK cadre.
Selvakumar was reportedly dismissed from the party which was confirmed by DMK President MK Stalin on Thursday night. Stalin tweeted, "The man who attacked a woman in Perambalur bringing discredit for the party has been removed as a member. DMK does not allow people to involve in such anarchy in the form of personal problems, likes and dislikes."
#WATCH Former DMK Corporator Selvakumar hits a woman at a beauty salon in Tamil Nadu's Perambalur. The incident took place on 25th May' 18. He has been arrested by the police and has been suspended from primary membership of the party (Source: CCTV footage) pic.twitter.com/B623qaLc0k

— ANI (@ANI) September 13, 2018
next