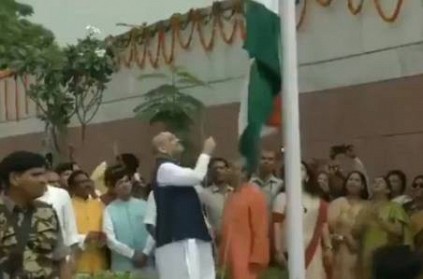 On Independence Day 2018, Congress had a good laugh after BJP President Amit Shah dropped the National flag while hoisting it at the BJP headquarters in Delhi.
While PM Narendra Modi was busy with his speech at the Red Fort. people quickly spotted Amit Shah fumbling with the flag at the BJP headquarters. Shah could be seen tugging at the cord, following which the flag fell. The scene which was broadcasted on Doordarshan, a national television channel. While broadcasting the scene, the commentator could not help his remark, "Disaster."
Congress mocked the BJP for the incident and tweeted, "How can someone who cannot handle the National Flag, handle the nation? If the people who disobeyed the Tricolour of the country more than 50 years, had not done this, then maybe today the tricolour would not have been insulted. Those who give certificates of patriotism to others, do not know the way of the national anthem."
जो देश का झंडा नहीं संभाल सकते, वो देश क्या संभालेंगे?

50 साल से ज्यादा देश के तिरंगे का तिरस्कार करने वालों ने अगर ये नहीं किया होता तो शायद आज तिरंगे का ऐसा अपमान न होता।

दूसरों को देशभक्ति का सर्टिफिकेट देने वालों को राष्ट्रगान का तौर-तरीका तक पता नहीं। pic.twitter.com/FmiEI5B7D7

— Congress (@INCIndia) August 15, 2018
next