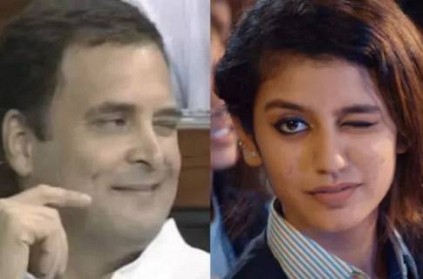 It was an astonishing moment at the Lok Sabha on Friday during Congress President Rahul Gandhi's 20-minute speech. Gandhi tore down the BJP government, criticising Defense Minister Nirmala Sitharaman and PM Narendra Modi.
It was at the end of the speech that made the jaws of everyone in the house drop. Rahul Gandhi finished his speech, walked over to the PM and gave him a big hug. His act surprised everyone, including the PM himself. Gandhi later came back to his seat and was seen winking at one of the other Congress members.
Gandhi's hug and wink took the internet by storm leading to a flurry of memes. Unsurprisingly, Gandhi's wink reminded Indians of the other extremely famous wink - that of Priya Prakash Varrier's.
Varrier reacted to Gandhi's wink and called it a 'sweet gesture'. She said, "I am very happy that it was my signature move in the movie when I started off."
next