Earlier this morning, Lakshmy Ramakrishnan's fourth directorial venture was launched with a formal pooja and the film also went on floors. It has now been officially revealed that yesteryear actress Viji Chandrasekhar's daughter Lovelyn would be making her silver screen debut as heroine with this project.

Lakshmy Ramakrishnan took to Twitter to make this announcement. She tweeted, "My Heroine😍 known her for quite sometime, thought of her for the awesome lead in this film😍 she just rocked it in the audition! After all it runs in her blood:) vvv happy to introduce #Sarita 's niece & Viji's daughter as my 'Radha"

Viji Chandrasekar thanked Lakshmy for launching her daughter, who tweeted, "Thank you so much @LakshmyRamki. Sooo happy. Need all your blessings and prayers ♥️🙏🏽 Introducing to you all, my daughter, Lovelyn Chandrasekhar"

Welcome to Kollywood, Lovelyn!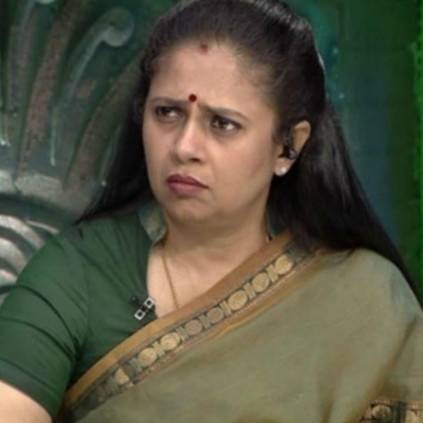 Lakshmy Ramakrishnan, who was hosting the TV show, Solvathellam Unmai, has got back to her director's avatar, as she revealed yesterday (June 5), that she would be starting her next film.

Co-incidentally, a case was filed against the show, and currently, a stay has been imposed against the show until June 17, and the hearing will apparently take place, the next day, on June 18.

As per Lakshmy Ramakrishnan's latest tweet, it looks like the actress turned director will no longer be a part of Solvathellam Unmai. "Format may b debatable, respect & accept what system seems right. But, never manipulated a single episode, not triggered participants 4 TRPs, emotionally invested in every episode, never been cautious & totally believed in +impact of the platform, goodbye to SU from my side :)", tweeted Lakshmy.

Going by the last line of her tweet, has Lakshmy Ramakrishnan put an end to Solvathellam Unmai?

*tweet is not spell-checked