Tamannaah had recently finished filming for her portions in Seenu Ramasamy's directorial, Kanne Kalaimaane, starring opposite Udhayanidhi Stalin. This interesting romantic drama has music by Yuvan Shankar Raja and lyrics by Vairamuthu.

Tamannaah, in her latest statement, has stated that Kanne Kalaimaane will be one of the best films of her career. She said, "I understood the concept of unspoken understanding after working with Seenu Ramasamy sir. He makes the actors understand their role and work so effectively. After Dharmadurai I was waiting to work with Seenu sir.

'Kanne Kalaimaane' is one the best films I have ever done in my career. The audience is just going to adore Udhayanidhi's role and performance. He has done a good job. I am very happy and proud to be a part of Kanne Kalaimaane"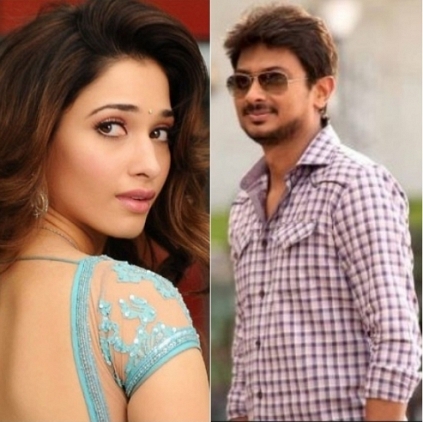 சீனு ராமசாமி இயக்கத்தில் உருவாகி வரும் 'கண்ணே கலைமானே' படத்தின் படப்பிடிப்பு தற்போது கொடைக்கானலில் நடைபெற்று வருகிறது. இதில், உதயநிதி ஸ்டாலினுக்கு ஜோடியாக தமன்னா நடித்து வருகிறார்.
இந்த நிலையில், நடிகை தமன்னா இயக்குநர் சீனு ராமசாமி மற்றும் நடிகர் உதயநிதி ஸ்டாலின் குறித்து தனது இன்ஸ்டாகிராம் பக்கத்தில் பகிர்ந்து கொண்டுள்ளார்.
அதில், ''உதயநிதி மிகவும் சென்சிடிவ் ஆன நடிகர். 'கண்ணே கலைமானே' படத்திற்குப் பின் அவரை அனைவருக்கும் பிடிக்கும். சீனு சார் படத்தில் மீண்டும் நடிப்பது சந்தோஷமாக உள்ளது,'' எனத் தெரிவித்துள்ளார்.