Sometimes, certain presence itself becomes an ornamental adornment for few movies. Such could be the ever cherishing involvement of Lyricist Vairamuthu with Seenu Ramasamy films. The legendary lyricist shares such an unconditional bonding with the filmmaker that he visits the shooting sets of his movies frequently. In fact, their combinations have always streaked an unbreakable series of National recognition. The phenomenal instance has occurred again with Vairamuthu visiting the sets of Seenu Ramasamy's Kanney Kalaimaney. The film featuring Udhayanidhi Stalin and Tamannaah in lead roles started rolling before few weeks.

With the shoot happening full swing across the backdrops of Vaadippatti, Vairamuthu wowed the entire team with his surprise visit.

Much exhilarated over his presence, National award-winning filmmaker Seenu Ramasamy says, "My respect and reverence for Vairamuthu sir has been beyond the professional context. His poetic verses and lyrical showpieces have influenced and inspired me personally as well. To work with such a legend is indeed an award winning experience. But his graceful and intense involvement in my previous films had escalated its standard to a greater magnitude. With his clock ticking with lyrical innovations and unceasing poetries, his gesture of spending time with us propelled more enthusiasm upon Kanney Kalaimaney."

Udhayanidhi Stalin on his part adds, "I would say it isn't just a visit, but a blessing to share moments with such a great wizard. Despite his greatest achievements across long journey, his childlike curiosity and goodwill nature to encourage others keep rejuvenating his works. I would say that his visit to our sets has spread out the positive vibrations completely."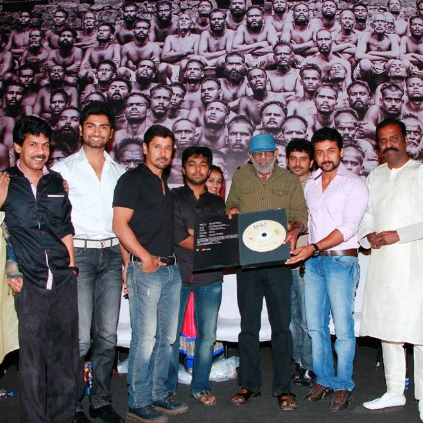 Bala's Naachiyaar starring Jyothika and GV Prakash released last Friday and the film opened to positive reviews all over from the audience and celebrities.
Legendary lyricist, Vairamuthu has watched the film and appreciated it poetically, through his Twitter handle. His tweet read, "நாச்சியார் பார்த்தேன். கலையின் நிகழ் நீரோட்டத்தில் நிற்கிறீர்கள்; பலே பாலா! ஜோதிகாவின் நிமிர்ந்த நன்னடையும் நேர்கொண்ட பார்வையும் காக்கிக்கே ஒரு கர்வம். நீங்கள் தொடர்ந்து கலையில் இயங்க வேண்டும் சகோதரி.
தம்பி ஜீ.வி! உன் ஜீவிதத்தில் ஒரு படம் இது; பாராட்டுகிறேன்.
ஒளிப்பதிவு செய்த ஈஸ்வர்! வெள்ளைக்காரக் கண்களோடு பிறந்த தமிழனப்பா நீ! படக்குழுவுக்கு என் வாழ்த்துக்கள்."
It is to be noted that Vairamuthu has worked with Bala and GV Prakash in Paradesi.
*tweet is not spell checked