The video and news of the horrific shoe-throwing aimed at actor Tamannaah became viral recently. The perpetrator, a man named Karimullah was detained for the act by the police and was then investigated as to his motive.

Now, reports suggest that he revealed his intentions - he was frustrated with the roles played by the actress in recent times.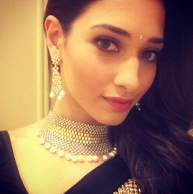 Tamannaah Bhatia is a happy woman these days. Her weekend release Aagadu, with Mahesh Babu, is going well. It is to be noted that, earlier this year, her Hindi movie 'Entertainment' with Akshay Kumar, and Veeram with Thala Ajith opened up in theaters and did well too.
Not just histrionics, the actor is also a designer. She recently tweeted a photo of her own creation. She said, "Designed the jewelry by myself!!! Excited and very happy to be wearing my own creation :)))))"
Very talented indeed!