Gautham Karthik has teamed up with his father for Mr.Chandramouli, directed by Thiru and produced by National award winning writer, Dhananjayan Govind. The makers have shot an intense boxing scene yesterday, (January 29), continuously for 18 hours at a stretch.

Dhananjayan shared this information through his tweet, "Amazing commitment & hardwork by @Gautham_Karthik today.. He shot non-stop 18 hours boxing action sequences without getting tired, with a lot of energy for #MrChandramouli. His training on boxing helped. Thank you so much Gautham. You are such a sweet heart with loads of energy"

The stunt scene was choreographed by Stunt Silva, and filmed by Richard.M.Nathan.

*tweet is not spell-checked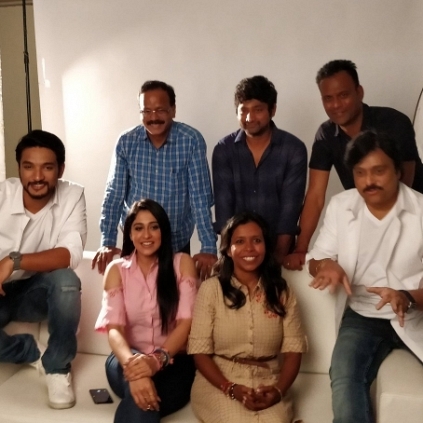 Mr.Chandramouli team has been busy shooting at various locations in Chennai. The team also has been following a unique way of promotion since the cast - crew announcement. Now for the first time in Tamil cinema, there will three different first looks releasing on the same day. Also the three looks will be released by three different celebrities.
Director Thiru tweeted, "THREE different 'First Looks' of our film #MrChandramouliwill be released by three of our well-wishers @VishalKOfficial @arya_offl @khushsundar Ma'm by 6 pm today. Let's have a blast friends!! @Dhananjayang @Gautham_Karthik"
Mr.Chandramouli has Gautham Karthik and his dad Karthik in the lead roles with Regina Cassandra and Varalaxmi Sarathkumar playing the female leads. Best wishes team.
*tweet is not spell checked