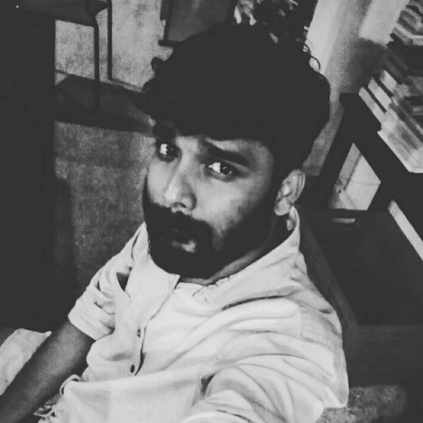 Debutant Pradeep Antony is definitely a happy man for the fact that he's part of the highly acclaimed recent sensation Aruvi. Pradeep played the character of Peter, an assistant director in the film. He took to his official Facebook page to share the memories of how he got onboard for Aruvi, after clearing the auditions. His nostalgic note is here:

"The Adventures of a Simple Star - Aruvi

It all happened some three years back when I was working as a station master in Chennai. I was called my college senior who used to laugh or putlikesfor my Facebook statuses. I was called for an audition for some role in a movie he was about to direct. Naan seri edho chumma jolly ku kuptu kalaila poranga nu ninaichen. En friend Johnny Maurillius nu oruthan irundhaan avan kitta poi ketten. Macha indha madhiri kupudranga da, worth ah? Avan "Macha semma chance da. I also heard about it, Sruthi hasaan or Samantha nu pesikuraanga heroin. Santosh Narayanan try pannitu irukaangalam Macha form agiduva" da apdi nu sonnan. Dai Sruthi Hassan Samantha na Enna enda kupda poranga? Ennada olarranu ketten. Illa Macha kadhaiku thevaiya irukum da. Slight ah oru asai. Seri Samantha va irundha namma Oru frame la vandha kooda jolly dhan...edathu comedy panni friend agi love panna arambichudroam. Inniku naga chaitanya iruka edathula oru second enna vechu paathutten. Apdi Adhu kooda illana Santhosh Narayanan music la oru song la orama vandha kooda maasa kanakula vechu scene podalam, namma friends ah savadikalam apdinu mudivu panten.

Aduthanaalvarennu solten, Office address laam kuduthaanga eldams road la Oru apartment la audition. Poi paatha Semma bustling ah iruku, yaar yaaro enna ennamo pannittu irukaanga. Onnum puriyala. Idhu edho serious ana matter pola iruku, thappana idea oda vantoam, velaiku avathunu soltu kelambidalamnu yosichen. But suthi paatha ellam seniors with whom I performed in ovations with and ellam sherinja munji. Seri pandratha pannuvoam apparam pesikalamnu mudivu pannitten. Then Arun's first assistant Pakkiyaraj Kothai and my senior Yeshwanth Kumar came and told, Buddy motta madi poidalam. Idhaan scene, idhu konjam important character Oru assistant director apdi ipdinu sonnanga.

Rendu scene: Neenga oruthana phone panni thittanum and Ungaluku Therinja ponnuku edho ayiduchu, Adha ninaichu azhanum apdinu sonnanga. Chi avlo dhana thitrathellam assault pannalame nu thimura pannen, first audition scene: phone la evano ozhunga velai seiyalanu thitren. Ok buddy apdi nu soltanga. Next scene azharathu. Appo namma vazhkai Vera amogama poitu irunchu naan chumma poi ninnurundhale azhara madhiri dhan irundhurukkun. Enaku nadandha ella sogamana vishayathayum nyabagam vechu Edho pannen. Ok buddy nu soltanga. Buddy unmaiya podhuma, Vera edathu pannanumnu sollunga, pandrennu sonnen. Illa director kitta kamichittu varoamnu soltaanga.

Keezha vanten, hall la ukkandhuttu irundhen. Ula ponanga. Naan veliya ukkandhuttu irundhen niraiya peru irundhanga ulla. Like en life layae appo dhan Oru audition epdi Irukumnu pakuren. Avlo peru cinema Mela passionate ah irukaanga idhula edathu sadhiche aganumnu Veri Oda sila Peru Oru orama practice pannittu irukaanga and then there is me. Oru madhiri urutha arambitchuduchu. Then they called me inside. Met Arun in real for the first time. Sirichitte super ah iruku, OK apdi nu soldraru. Illanga enaku puriyala, ozhunga paatheengala apdinu kekuren. Oata pallu laam iruku, Idhellam OK VA? seri pannanumanu keta, Illa correct ah iruku idhu madhiri dhan venumnu soldraru. Seri edho asingama Naan Kadavul padathula vara pichakaran madhiri role pola nu ninaichukitten. Then we spoke about what I was doing in railways then and all. Avlo dhan.

Naanveliyavandhu vandi otitu poinu irukken.Ippo Enna aachu onnu puriyala. To confirm I called my friend Shruthi Nandagopal, who did translation for the script and asked her, Macha Edho Peter nu Oru character ah, pannalam la? She was like hey super da, nee semmaiya irupa adhuku apdi ipdi nu sonna..that's all. That's all I knew. I'm going to act in a film. What story, what's gonna happen I had no clue. Was very curious and I cannot explain what I was going through. But I knew I was into something good. There were many sittings of story discussions, briefings and all. I couldn't make it to any one of it. En scene preparation ku mattum dhan ponen. Either en Mela avarukku romba nambikai irundhurukanum or avar direction Mela avaruku romba nambikai irundhurukanum. I think its the latter. Adhukku apparam konja Naal aachu shoot laam arambitchaanga. Neenga dhan hero. Hero sir hero sir nu kuptaanga but enaku Oru naal kooda andha feel eh varala (Siri kalaichutu ponga danu vittuten, veerabahgu style). Edho poven ukkaruven, shot kupta poi nadippen, anga Kavitha Bharathy sir, manikutty sir, Madhankumar, Anjali, Balaji A R and Hema Hem Oda laam mokka Pottutu veetuku vandhuduven. But light ah Oru uruthal. Namma evanuko Vara vendiya Nalla opportunity ah eduthukitomonu. It took a long time tested my patience and I kinda lost it at one point and started regretting getting into it. But never took it on spot.

Padammudinchuruchu, I went back to my normal life. Two years no talk about it. I didn't even care to ask what happened to that film. Dhideernu one song got released one day.Sathyama soldren everything changed from that point. I was so much in love with that song and I was like wow. I don't need anything else. Then album got released. I was nuts. I cannot explain what those songs did to me. Oru madhiri padam Mela Oru curiosity vandhduchu. Adhukku apparam I was like semma eager ah waiting for it to see the songs in visual and celebrating the music director Bindhumalini Narayanaswamy and director for the music and lyrics and waited like a normal audience. Because apart from certain key points I didn't know Jack shit about this film. Bayangarama hype aachu. People called me and I didn't have anything to say about the film I acted in. People called and appreciated, I didn't know what to say. I was like naan paathutu soldreenga.

Today I saw this film. Wow.Sathyama soldren. Sruthi Hassan, Samantha and Santhosh Narayanan laam irundhurundha kooda naan ivlo sandhosham ayirukka maten. Adita balan, you beauty. Weight kamichitta. Vera level la irunchu padam Oru madhiri veliya varumbothu yaar yaaro vandhu appreciate pandraanga, katti pudichukuraanga. Adhuvum Bangalore la. Romba happy ah ayiduchu with some guilt. Nalla vaipu, I only wish I didn't act in this film. This could have been a great opener for someone with motivation. Dhandathuku naan indha role ah waste panna madhiri iruku. Romba kastamavum but Oru madhiri at least paravailla I didn't destroy that character nu sandhoshama vum irunchu. I'm happy I was a part of this. Thank you Arun Prabu Purushothaman

Iapologise to the real Peter if he's there somewhere if he missed this chance.

Love youAruvi. Love you Arun. Love you all.
Nallairunga

Sorry for the long post. Here's a potato"

*social media post is not spell-checked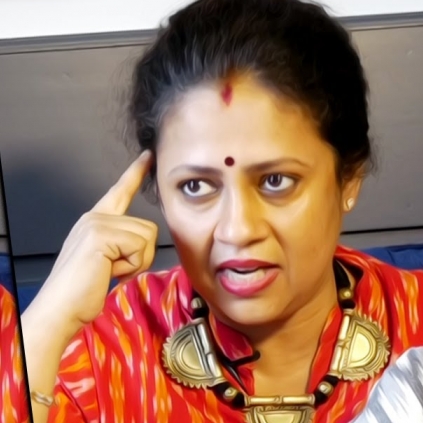 Aruvi, directed by debutant Arun Prabhu Purushottaman starring Aditi Balan, is a film released recently which has been receiving critical acclaim as well as solid commercial success. Its strong content, while impressing most, has also slighted a few including actor and TV show host Lakshmy Ramakrishnan.

Lakshmy has attacked the film over a series of tweets, which include:

"You have participated in #SU?Kallakaadhalaa?! Or , may be the director has or his family members:). That is why he knows so much about the show:)" (Whilst replying to a user)

"The Director would have seen such things happening in shows & channel he worked for! he doesn't have the b.... to spoof his own channel. #SU is easy target to become popular & some quick bucks! feminist film made by cheap & personal attacks on another woman! What greatness!"

"They don't respect living people and women, why would they respect religious sentiments?!
Making a feminist film by personally attacking another woman is the cheapest and most disappointing part of this film!"

"And the worst part is prominent media people appreciating the film in spite of the gross disrespect and abuse of another woman!"

"Remember #Slumdog ? Based in a popular show? They did not associate or believe that BIg B actually does what is shown in the film to his participants! But fools like this one, believe the Director's imagination is what actually happens!"

"If the makers/ director has the b.... let them face me , live on camera, and answer my queries, good opportunity for publicity for the film! Can any of the popular channels including @ZeeTamil , come forward to do this?"

"film industry has to be responsible and not get into cheap spoofing and personal attacks for their own benefits/ hidden agendas. Remember we cater to immature people like this one !"

"if someone has a problem with the format, they should address that! You cannot belittle and demean & defame my sincere contribution for the past 6 years! I don't do social work, but do my job with social responsibility & film industry has tried to damage me over & over again"

"Women should speak up not just for their own sake but for other women also. targeting a woman's reputation, someone who is a film maker / actor, also lends voice for social issues, is nothing but destructive. If u have opinion about the show, discuss that, why personal attacks ?"

These tweets are pretty explanatory of the actor's feelings about the film. Stay tuned to this space for updates on any development on this brewing controversy.