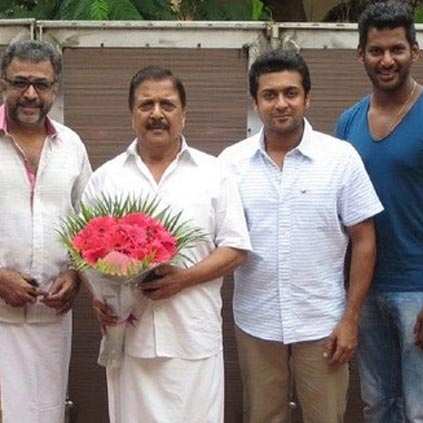 Nadigar Sangam sends notice against a leading Television channel for body shaming actor Suriya on their Television show. Vishal's statement details below:

"Subject: Marking of protest and seeking action against untasteful and unacceptable mocking and trolling on your program.

Recently in a show, the hosts (two young girls), literally., stocked and trolled the physical appearance of one of our respected senior members, Mr. Suriya under the pretext of film news chat. It is a real cause of concern and shock to witness such indecent and derogatory comments in a channel program about an individual. The fact that a movie star may be in the public eye does not warrant such pejorative discussions in a public medium such as yours.

We would like to highlight that an actor, like every other citizen, has right to privacy, personal space, basic respect, decency and equal protection under Law. Sun Network should not have permitted the telecast of such defaming and disparaging content.

Being our long-standing partner in the media space, we welcome any constructive and decent criticism of our work from Sun Network. However, we will not tolerate or excuse such insensitive talk shows that are aimed at hurting one of our senior members and respected actor. We demand immediate and stern action against the show hosts who exhibited such indecency and an assurance that such chat shows in bad taste would not be telecast on your network channels.

We look forward to your immediate response and corrective action so that we do not induce any strain in our ongoing relationship."


*Vishal's statement is not spell-checked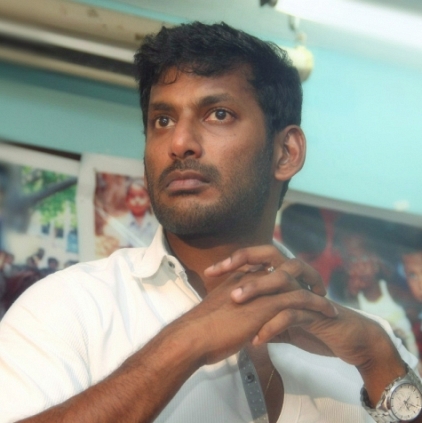 The audio launch of Jiiva's Kee happened this morning, at Kamala Cinemas, which was indeed a very serious event. All the chief guests who graced the event, shared their experiences of working with producer Michael Rayappan of Global Infotainment. One of the guests Vishal, talked about STR's AAA controversy, and Michael Rayappan's plight, after the movie.

"It would be very good if everyone addresses me as 'actor' Vishal than just TFPC President or Nadigar Sangam secretary. First of all, I apologize to Michael Rayappan sir, for not arriving at the conclusion for his previous film's loss, and about his complaint on Simbu. Let us all be patient. We are working towards an answer. I have learned to be patient in all these years in the industry, and that has helped. Let us wait for some more time. And as I said, Rayappan sir, deserves a big success with Kee, and all of want the film to release in a grand manner in a huge number of screens with celebration. I was planning to release my Irumbu Thirai on February 9, but now, I don't want that to happen, since Kee is releasing on the same day. Kee should have a proper release. I am postponing my film. There is no need for any competition, and I will find another suitable good date. Let February 9 be the release date for Rayappan sir's Kee. Coming to the film, it looks like Kalees will be a very promising find. Best wishes to my darling Jiiva. He has moulded very well, as an actor, with so much versatility.

And P.L.Thenappan sir told that there was no action taken against Simbu, for his complaint about Vallavan loss. It is not that we haven't taken any action, but, there was no reaction. If there is a reaction to a problem, we can take it forward and solve it. But, I didn't get any reaction from the opposite side (Simbu). Someone should be reachable to contact, about the issue. Only then, we can come to a conclusion. I am just a messenger between two sides, and I will make both the parties understand what went wrong and what could be done. But, here, the reaction doesn't come at all.


At this point in time, I am saying this. Rayappan sir, we've done a film before, and we know each other very well. You don't have to give me any advance or salary, not even a single paise. Get a talented director on board, finalize the project, and tell me, I will do that film for you. If the film succeeds at the box office, you can give me a share of the profits. I do not know if this is a help or something, but, this is something that I could do," said Vishal.