Suriya was recently made fun of for his height during a live music show on a popular leading television channel, and this invited a lot of criticism from various quarters.

The latest development on this issue is that Nadigar Sangam has officially sent a notice to that concerned television channel, demanding an answer. Confirming the same, Vishal said, "We have sent a notice, on behalf of Nadigar Sangam, to that channel. Everyone has the right to freedom of speech, agreed, but there is a limit. Hitting below the belt is something very wrong, and condemnable. Suriya is a reputed, top actor in the industry, and the channel is also a leading pioneer.

In that case, the channel could've avoided speaking about his appearance. Whomever for that case, the show writer, producer, or the VJs, could have avoided those lines. We are all part of one family, and there should be an understanding, and you can't just simply say anything. So, we have sent a notice, and we are expecting an answer from them."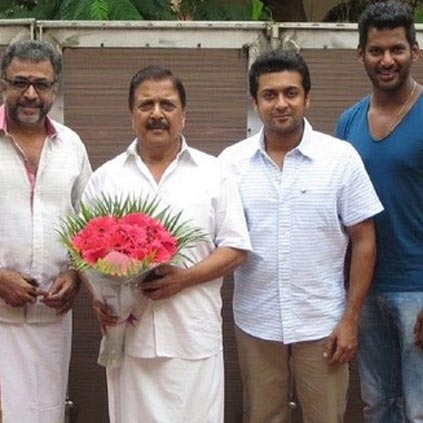 Nadigar Sangam sends notice against a leading Television channel for body shaming actor Suriya on a Television show. Details below:

"Subject: Marking of protest and seeking action against untasteful and unacceptable mocking and trolling on your program.

Sir, Recently in one of -Sun Music" channel program the show hosts (two young girls), literally., stocked and trolled the physical appearance of one of our respected senior members, Mr. Suriya under the pretext of film news chat. It is a real cause of concern and shock to witness such indecent and derogatory comments in a channel program about an individual. The fact that a movie star may be in the public eye does not warrant such pejorative discussions in a public medium such as yours.

We would like to highlight that an actor, like every other citizen, has right to privacy, personal space, basic respect, decency and equal protection under Law. Sun Network should not have permitted the telecast of such defaming and disparaging content.

Being our long-standing partner in the media space, we welcome any constructive and decent criticism of our work from Sun Network. However, we will not tolerate or excuse such insensitive talk shows that are aimed at hurting one of our senior members and respected actor. We demand immediate and stern action against the show hosts who exhibited such indecency and an assurance that such chat shows in bad taste would not be telecast on your network channels.

We look forward to your immediate response and corrective action so that we do not induce any strain in our ongoing relationship.

Regards
For INDIAN ARTISTES' ASSOCIATION General Secretary
Vishal"

*Vishal's statement is not spell-checked