Aishwarya, the great-granddaughter of legendary singer MS Subbulakshmi is making her debut as a singer with a Tamil film Kural 146. Debutant Umashankar directs the movie, and it will have music by Guru Kalyan.

Guru Kalyan has worked in films like Maathi Yosi, Kotti and Gugan. The album will comprise five songs in total, and the recording of the first song took place yesterday, November 24. It was a 'Pattinathar' song sung by Aishwarya and music director Guru Kalyan.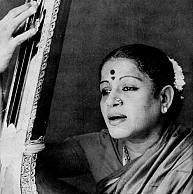 Rajiv Menon's plan of making a biopic on Bharat Ratna MS Subbulakshmi seems to be facing yet another obstacle, post the protest by a certain outfit against casting Vidya Balan as the legendary singer. Now producer MP Somprasad has reportedly got an injunction order against Rajiv Menon from filming it.

The producer has the rights for the book written by TJS George on MS Subbulakshmi and had reportedly signed Rajiv Menon to direct it. But the producer had to file an injunction against the director after Rajiv announced a project of his own, on same lines.
MS Subbulakshmi's great-granddaughter makes her singing debut with Kural 146
People looking for online information on Aishwarya, MS Subbulakshmi will find this news story useful.