For the first time in Indian cinema, a team has attempted to make a space film. Shakti Soundar Rajan, the director of the zombie film, Miruthan is back with Tik Tik Tik, starring Jayam Ravi and Nivetha Pethuraj. D Imman scores the music, S Venkatesh captures the visuals while Pradeep E Raghav cuts it. The trailer for this film produced by Hitesh Jhabak just came out, and it is out of the world, quite literally too!

The makers have given us a sneak peek into what the story would be. It looks to be about an asteroid that is about to hit the South Indian region of the earth, and how the space division of the Department of Defence in India is going to try and stop this. The asteroid is expected to be the cause of a significant shift in the geographical shape of India, and how a master magician and escape artist (Jayam Ravi) helps the Indian Government stop this attack.

The cinematography by Venkatesh and visual effects, done by Ajax Media Tech look brilliant. The visuals speak for themselves and D Imman's music is engrossing. Jayam Ravi has impressed us with various roles in the past, and this time, he is playing a magician, and it looks exhilarating! The shots from outer space are fantastic, and the story seems like it will have a lot of gripping sequences if the screenplay works right.

Visual effects for films like these need to be up to the mark, and they have to look convincing enough to engage the audience throughout the film. If the splendor of the effects connects well with an enthralling screenplay, there will be no stopping the team of Tik Tik Tik from creating history!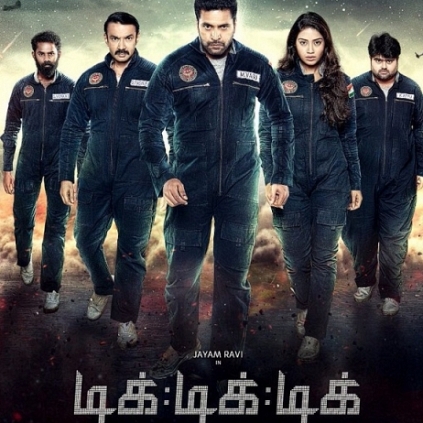 India's first space film, Tik Tik Tik, starring Jayam Ravi and Nivetha Pethuraj in the lead roles, is marching towards its release.

Jayam Ravi, with his tweet, has informed that there will be an announcement from the team about the film, tomorrow (November 20) at 4 pm. The film, also starring Aaron Naziz, is directed by Shakti Soundar Rajan.

Ravi tweeted, "Important announcement about #TikTikTik tomorrow at 4pm. Be ready guys"

Well, is it going to be the film's audio release date, or trailer release date, or something else? We'd have to wait until tomorrow.