The much talked about television show, Enga Veetu Mappillai's grand finale happened yesterday (April 17). The show, which is about Arya's search to find a perfect bride for his marriage, featured three finalists in the form of Agatha, Susana, and Seethalakshmi.

When Arya was asked to choose the lucky and deserving winner of the show, he decided not to. Yes, Arya revealed that he cannot select one, among the three, and hurt the remaining two people. Arya also stated that, if he had to select one, he definitely needs some time, to decide.

Apart from this, he confessed that he didn't like the whole concept of elimination, as that also resulted in, hurting the sentiments of both, the contestants, and himself. Apparently, the Raja Rani actor didn't want to repeat the same in the finals too, and hence decided, not to select the winner.

This decision from Arya has indeed shocked all the audience, and a section of people, have been expressing their disappointment on social media.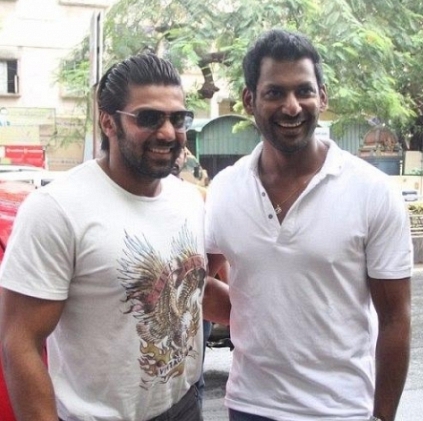 Vishal's Irumbu Thirai is running with packed houses with the help of positive word of mouth and strong content, produced by debutant Mithran and team.

Vishal's best friend and actor Arya is all praise for the film and has congratulated the whole team with his tweet. He said, "Loved #IrumbuThirai 👌👌👏👏 brother @VishalKOfficial rock solid performance 👏👏😘😘@akarjunofficial sir Hats off u r just awesome 😘😘😘@Psmithran writing screenplay making top notch bro😘😘 @george_dop darling too good u r 😘😘 @AntonyLRuben bro always rocking 😘😘"

*post not spell-checked