Arya decided not to marry anyone, at the grand finale of Enga Veetu Mappillai show, that indeed shocked everyone, because that wasn't a widely expected decision.

During the show, one of the fan-favourite contestants, Abarnathi, who got eliminated the week before, was asked to comment on Arya's decision.

"Arya, why are you doing like this? Don't you have the interest to marry at all? Kadasi varikkum brammachaari ah ve irukka poriya? (Are you going to be a bachelor for the rest of your life?) Won't you say 'I love you' to any girl? You are talking about hurting these girls now. Didn't you know that I would be hurt, during my elimination? I am totally shocked with your decision. And, yes, I am always there for you, Arya," expressed Abarnathi.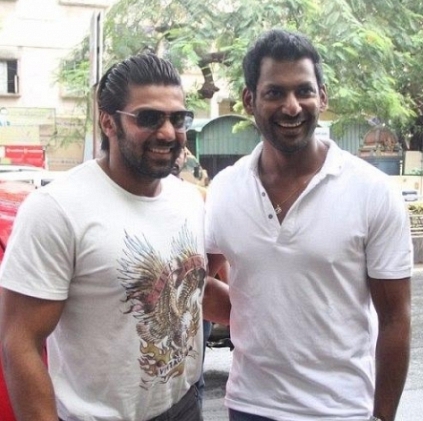 Vishal's Irumbu Thirai is running with packed houses with the help of positive word of mouth and strong content, produced by debutant Mithran and team.

Vishal's best friend and actor Arya is all praise for the film and has congratulated the whole team with his tweet. He said, "Loved #IrumbuThirai 👌👌👏👏 brother @VishalKOfficial rock solid performance 👏👏😘😘@akarjunofficial sir Hats off u r just awesome 😘😘😘@Psmithran writing screenplay making top notch bro😘😘 @george_dop darling too good u r 😘😘 @AntonyLRuben bro always rocking 😘😘"

*post not spell-checked