The grand finale of Enga Veetu Mappillai show happened yesterday night (April 17), in which Arya decided not to select any one single person, because that might result in the hurting of the other two finalists.

Here is what Arya had to say, in the grand finale. "As soon as I released the first promotional video of this show, I decided two things, and I was sure to follow that. One was not to hurt anyone or their sentiments, and the other one was, not to have favouritism towards one particular contestant. Because, if you have favouritism towards one contestant, that might not result in a positive way.

One thing I really really hate is elimination. I hated it and I felt bad. I can't express my feeling through words, and those words wouldn't establish my feeling. Especially, the last two evictions, Abarnathi and Swetha, made me so helpless. I felt as if I committed a mistake, and I didn't like that. If I have to select one person now, the public's focus will shift towards the other two finalists, who got eliminated. That will definitely make those two feel bad. Not just them, it will hurt their families too. I am not sure how to express this, but if I select one girl, I feel as if I stopped the marriage of other two girls. I can't justify right? I am seriously blank.

As said, I am not ready to hurt the families of the two others, who will be losing. I do not have the heart to hurt anybody. I was already heartbroken with the last elimination. Atleast, I can't take the decision at this stage now. Maybe, I get some time alone, I can analyze, think, and take a decision. Let this be the beginning, and I have got to know some good-hearted human beings. More than the happiness, it will be more of a pain, if I select only one. It would be unfair to the other two contestants."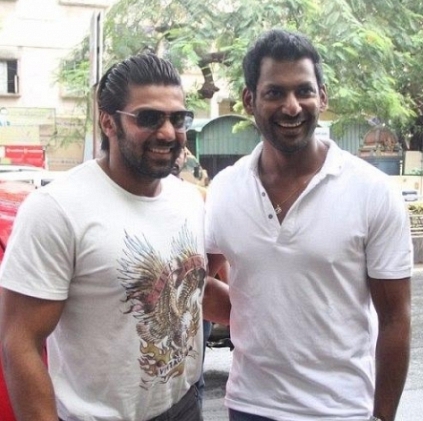 Vishal's Irumbu Thirai is running with packed houses with the help of positive word of mouth and strong content, produced by debutant Mithran and team.

Vishal's best friend and actor Arya is all praise for the film and has congratulated the whole team with his tweet. He said, "Loved #IrumbuThirai 👌👌👏👏 brother @VishalKOfficial rock solid performance 👏👏😘😘@akarjunofficial sir Hats off u r just awesome 😘😘😘@Psmithran writing screenplay making top notch bro😘😘 @george_dop darling too good u r 😘😘 @AntonyLRuben bro always rocking 😘😘"

*post not spell-checked